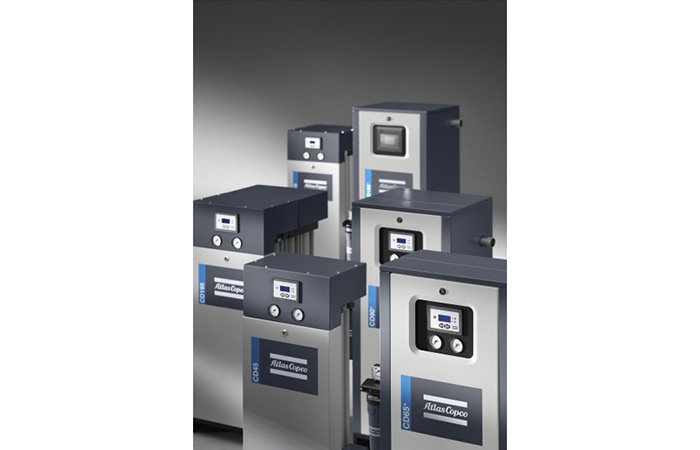 The new, compact CD 20⁺-335⁺ is the first compressed air dryer to use the revolutionary Cerades™ceramic solid structural desiccant and has been developed and patented by Atlas Copco to achieve improved air quality, at lower energy and service costs, along with environmental and health protection benefits.
Until now, desiccant in air dryers has always consisted of loose beads made of activated alumina, molecular sieves, or silica gel. Cerades™ is the first ever solid, ceramic desiccant. It is the result of years of research and development by Atlas Copco with the goal of radically improving desiccant dryer design, efficiency, and performance.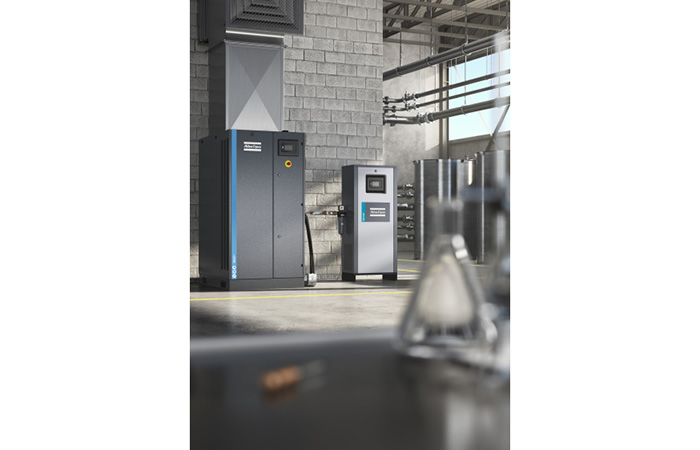 In conventional heatless desiccant dryers, the compressed air flowing through the drying towers must overcome resistance from loose desiccant beads. With the Cerades™ system, compressed air is channelled straight through the structural tubes. A no-resistance airflow results in minimal pressure drop across the dryer, leading to lower operating energy costs.
The CD 20⁺-335+ range has been designed for continuous operation of 100% airflow, in comparison to the industry norm of 70% to 80%. This performance includes a constant pressure dew point of -20°C/-5°F, -40°C/-40°F, -70°C/-100°F * as standard. Dew point is adjustable to allow for seasonal or application changes and to reduce energy consumption.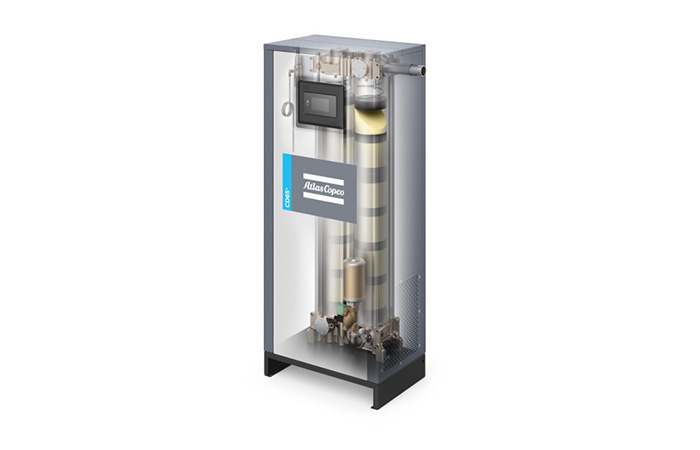 Because the new dryer handles higher airflow than comparable desiccant designs, the overall dimensions of the unit are considerably smaller than average. Its compact desiccant blocks offer a longer service life, allow for rapid, easy maintenance, and extended service intervals.
Conventional loose desiccant decomposes significantly over time releasing a fine dust into the air system and ambient air during desiccant replacement. The solid Cerades™ ceramic desiccant ™ eliminates the health and environmental hazard and the need for extra filtration and maintenance to combat this dust problem, thus giving compressor users ISO 8573-2010 Class 2 particulate air purity without the need for a post dryer dust filter.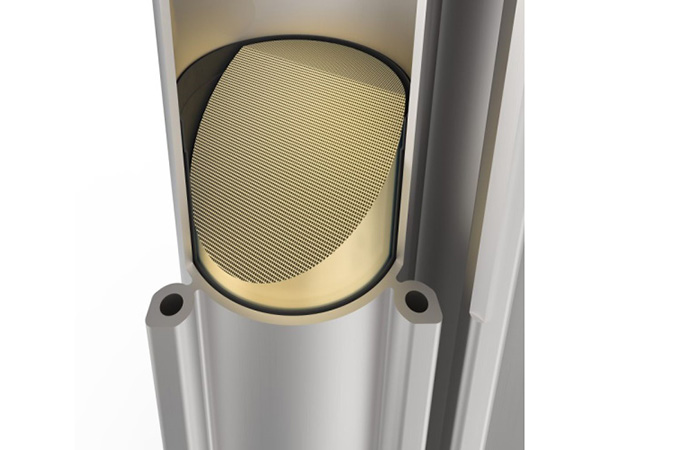 Cerades™ is vibration-resistant and can be mounted horizontally for trouble-free installation and continuous operation in rigorous applications, for example in the transportation industry.
"Cerades™ really is a quantum leap in compressed air performance," says Stef Lievens, Business Line Manager Industrial Air at Atlas Copco Compressors GB. "It outperforms traditional desiccant on every level. It even allows us to make dryers more compact as ceramic desiccant can handle a higher airflow. It simply is an important all-round improvement."
The principal features of the CD 20⁺-335⁺ dryer range include a unique, electronically operated 3/2 manifold/valve to reduce risk of breakdowns and offer reliable control during airflow fluctuations. Service openings ensure easy access to the moving parts of the valve system. To minimise pressure drop, the dryer design incorporates 50mm diameter pipework and an integrated UD+ pre-filter, to prevent oil contamination and increase desiccant lifetime, mounted directly on to the dryer inlet.
A major advance in dryer technology is the optional Dew Point Dependent Switching feature. A pressure dew point sensor will only switch airflow to the next tower when the desiccant is saturated. During this cycle time extension, the dryer consumes no purge air, resulting in a significant reduction in energy use of up to 90%.
To optimise air system performance and energy savings, the CD 20⁺-335⁺ dryer offers the Elektronikon® Touch advanced control and monitoring system to track all parameters and provide warning indications, dryer shutdown and maintenance scheduling. This management capability extends to synchronisation with compressor systems and remote data monitoring via Atlas Copco's SmartLink programme connectivity to help compressed air and dryer users increase maintenance and service efficiency.
*-70°C/100F uses molecular sieve desiccant 
For more information please contact:
Joanna Canton Long, Marketing Communications Manager, Atlas Copco Compressors
+44 (0)1442 222240 or  joanna.canton.long@uk.atlascopco.com
Chris Butcher, Account Director, Publitek
+44 (0)1582 390980 or Christopher.butcher@publitek.com