May 31st 2023 - Whitewater Brewery is a thriving craft beer operation that was first established in 1996 on a fifth-generation family farm in Castlewellan, Co. Down and for over two decades the brewery has developed and produced a wide range of award-winning standard and bespoke cask real ales, keg beers, stout, and lagers, renowned for their unique flavours
By combining traditional production methods with advanced technology, the company has seen expansion from an initial 800-litre brew size to the handcrafting of 6,500-litre brews and the bottling of 10 different beers on-site. This substantial increase in productivity from its processes was aided initially by the brewery's energy-efficient Atlas Copco compressed air system and now, even more so, by its recent addition of an on-site nitrogen generation system, designed to ensure continuity of supply and to achieve significant operational cost savings compared to using bought-in nitrogen or carbon dioxide.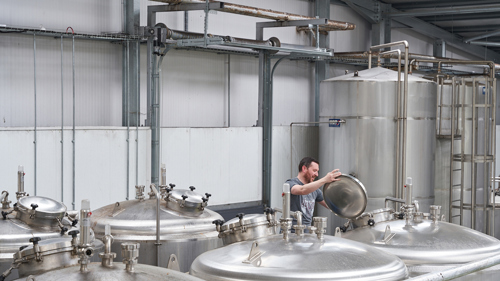 Founder and managing director, Bernard Sloan explains: "We built a microbrewery because we are passionate about beer. We did our first brew in my great-grandfather's shed with the aim of brewing exciting, great-tasting beers. Now, we occupy a 15,000 sq. ft production area which we purpose-built in 2018."
The role of nitrogen
In keeping with similar operations within the brewing industry, Whitewater Brewery has seen a growing reliance on nitrogen gas for a number of stages and process applications throughout the beer-making process. Typically, these range from flushing pipework and tanks to eliminating unwanted CO2 and oxygen, and purging residual wort or mash from completed batch vessels to prevent the risk of contamination spoiling the next brew batch.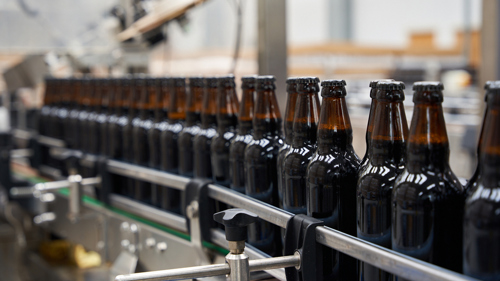 In addition to these applications, pressurised nitrogen gas can serve as the ideal medium to aid the flow of beer from one tank chamber to another and to facilitate pressurised keg filling, as well as all other filling, bottling and canning operations.
As Bernard Sloan has experienced, on-site nitrogen generation offers a more sustainable and cost-efficient solution than reliance on nitrogen or carbon dioxide gas delivered in cylinders or as bulk liquid supply, which all require transport, handling and dependence upon supplier delivery schedules.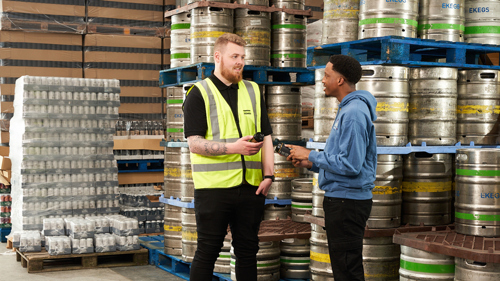 That was primarily why Whitewater Brewery's switch to on-site generation was made. Operating with an Atlas Copco GA 7 VSD+ FF rotary screw compressor to supply 10bar clean, dry air, an NGP15+ nitrogen generator, incorporating the latest pressure swing adsorption (PSA) technology, was installed to produce an independent, reliable, and flexible supply of premium grade nitrogen at the exact purity level required of 99.5%
Atlas Copco's NGP+ range of on-site, service-friendly nitrogen generators combines high flow capacity, with output from as little as 4 Nm3/h right up to 3000 Nm3/h, with low operating and maintenance costs.
Nitrogenation
A specific benefit derived from the on-site generation facility is its contribution to nitrogenated beer production, such as Irish stout, which contains more dissolved nitrogen gas and less CO2 than traditional beer. The foam generated by nitrogen bubbles is thicker and longer lasting. With less CO2 the beer has the smooth character for which it is famed.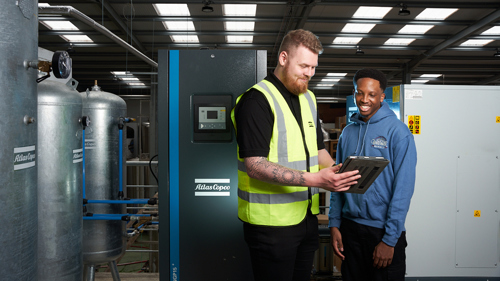 Saving on CO2
These improvements are not the only substantial benefits that the new nitrogen generation system has brought to the Whitewater Brewery's business – it has also reduced the operation's reliance on CO2 within its processes and its material costs.
"We were using a tonne of CO2 every week from delivered bulk supply that was costing in excess of £1000 during supply shortages for each delivery. The on-site nitrogen has replaced many of the CO2 duties throughout our production, and as a result, we have been able to limit the supply programme to just one every five weeks. This is saving us around £35,000 per year on CO2 costs and is reducing carbon emissions," confirmed Bernard Sloan.
The reliability, continuity of supply, versatility of nitrogen applications, and the significantly lower cost burden of industrial gases have all boosted Whitewater Brewery's productivity to a new level, helping it be prepared for its future expansion plans.
 Editor's notes
The Atlas Copco NGP/NGP+ nitrogen generators operate with Pressure Swing Adsorption (PSA) technology. The system works by separating nitrogen and oxygen molecules within the compressed air stream feeding the unit. PSA does this by trapping the oxygen using adsorption techniques. Adsorption takes place when oxygen molecules attach to a carbon molecular sieve (CMS) allowing the smaller nitrogen molecules to pass through.
Whereas other competitive systems require six volumes of air to produce one volume of nitrogen, Atlas Copco's generator design requires a ratio of only four parts of air to one part of nitrogen.
Nitrogen is much cheaper and more readily available than CO2. It can be used instead of carbon dioxide in at least two-thirds of brewing applications. Replacing a proportion of CO2 with nitrogen significantly reduces a brewery's carbon footprint because when the nitrogen used in a brewing process is released, it merely returns into the air that it came from, whereas escaped CO2 is a greenhouse gas emission.
For more information on Atlas Copco's range of nitrogen generators for the brewing industry, click here