For applications such as diffused aeration, filter backwashing and activated sludge systems, Atlas Copco's Class 0 oil-free air blower technologies encompass energy efficient rotary screw, turbo, and centrifugal designs as well as traditional tri-lobe solutions, all offered as fixed-speed units or as high-end solutions with VSD (Variable Speed Drive) inverter and optional Elektronikon® control.
Compared to delivered oxygen supplies or other on-site oxygen generators, Atlas Copco's on-site OGP+ oxygen generator family provides the cost-efficient, safe, and space-saving alternative to purchasing the gas from a third-party supplier.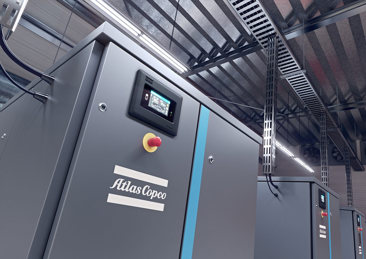 Top of the range Pressure Swing Adsorption units raise the bar for all key benchmarks, from efficiency to performance and reliability, providing a stable oxygen supply and purity at a significantly lower cost per unit.
Providing the dry, compressed air source for on-site oxygen production, Atlas Copco's third generation of rotary screw VSD compressors significantly reduce energy consumption by adjusting their motor speed to the fluctuations in compressed air demand while offering up to 60% energy savings compared to fixed speed compressors, and smart, flexible operation.
In addition, Atlas Copco is showing one of its WEDA Submersible Pumps, made for durability, ease of use, and designed specifically for drainage, sludge and slurry pumping applications.
For more information about Atlas Copco's technology for the clean water, sewage and wastewater treatment industry, please visit https://www.atlascopco.com/en-uk/compressors/industry-solutions/wastewater-treatment