In most flow control applications safety screens are acknowledged as being one of the most effective ways of protecting components from a few rogue particles. However, a more significant failure upstream may generate enough debris to partially clog, or in a worse-case scenario completely block a safety screen. This may be acceptable in some applications where there is an opportunity to shut down the system and clean, or replace the screen, but what about flow control applications where continuous and uninterrupted flows is critical?
The LEE COMPANY are at the forefront of developing miniature fluid control components and a good example of this is their established range of HI-BAR® Safety Screens which  protect critical components in both liquid and pneumatic applications. They are now pleased to announce the latest evolution of their Safety Screen components following the introduction of the HI-BAR Custom Designed  Bypass Safety Screens. 
This new 'bypass' safety screen design provides the combination and functionality of a screen element in parallel with a relief valve and crucially this is housed in a single, ultra-compact package without any joints or seams.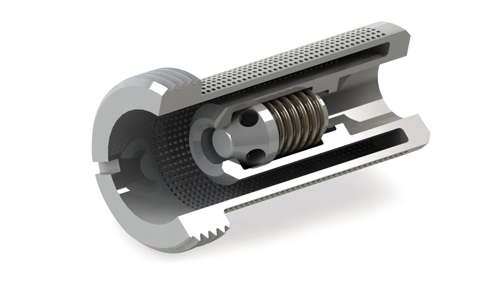 Designed for hole sizes ranging from as small as 25 microns and up to 500 microns, they can handle burst pressures up to 7500 psid, bypass pressures from 50 to 500 psid. They are also available in NACE compliant materials if required. A choice of fitting and retention options are available whilst the bypass element is offered in latching and non-latching styles.
Regardless of the configuration, all Lee HI-BAR safety screens are designed to retain previously captured particles once the bypass mode has been activated, thus reducing the chances (and ultimately the consequences) of sending unwanted contamination downstream.
Typical critical flow applications and scenarios where these new bypass safety screens will be most effective include; aviation fuel systems during a cold temperature start-up, sub-sea fluid control systems, lubrication systems and oil and gas chemical injection valves. Also, for downhole tools in the oil and gas industry where screens are required to operate efficiently over long periods of time, even when they are remotely located with limited access.