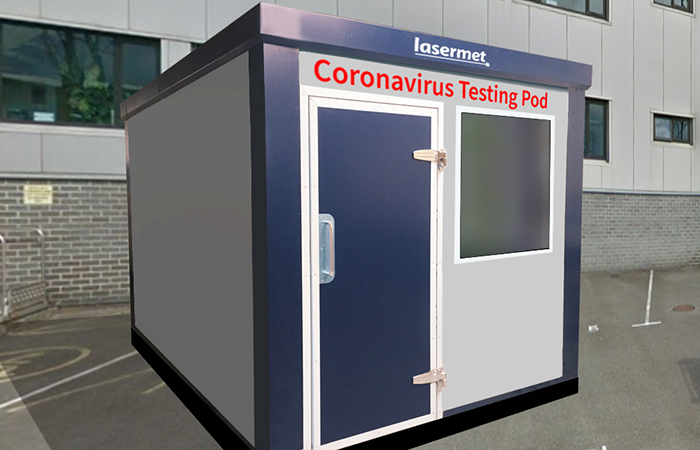 Every hospital in England is being asked to create priority assessment pods for patients with suspected coronavirus, the NHS has said.
To help meet the demand for Coronavirus testing, Lasermet has increased production of its modular testing pods, also known as procedure pods or storage pods. These pods or cabins can be installed in a single day either inside buildings or outside in dedicated areas.
Due to their rapid build and deployment capability, the Coronavirus Testing Pods can be used to check for coronavirus by dedicated virus testing staff. These covid-19 inspection pods can also be used as virus isolation pods or for treatment, or for cold storage.
They can be installed in areas that may be difficult for conventional portable cabins to be located. As they are modular buildings, they can be built on site to virtually any size. If they need to be relocated, they can either be moved by forklift or they can be quickly dismantled, moved and rebuilt in a single day.
The specification of the modular cabin or pod can include a range of door sizes, windows, ventilation systems, electronic LED signage, lighting and heating. They are suitable for daily deep cleaning and are weatherproof for outdoor situations e.g. in car parks.
The pods are highly insulated and can be used for numerous purposes. They can be thermostatically controlled to keep personnel warm or they can be chilled to low temperatures efficiently for cold room storage applications.
The modular pods can be rapidly resized, rebuilt and recommissioned in a single day. For example, if hospitals require bigger pods, Lasermet can install additional modular panels.
These covid-19 pods are designed for rapid deployment anywhere in the world. They can be shipped in containers as flatpacks and can be built on site by two people.
They are portable and re-deployable; they are clean-room capable; they are suitable for deep cleaning and can be climate controlled for heating or refrigeration. They are weatherproof for outside use and are available now for installation worldwide without cranes or heavy lifting gear.
Contact Lasermet for further details or visit www.lasermet.com/coronaviruspods