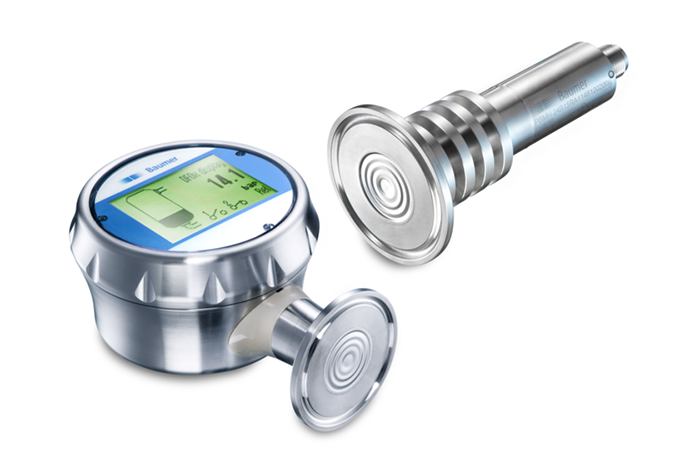 Automation sensors and other specialist instrumentation used in the food and beverageindustries are often required to deliver the tricky balance between reliability, product safety and affordability. The latest process automation sensors available from BAUMER can certainly help engineers working in these industries strike the right balance, but what about the often over-looked consideration of long-term reliability and accuracy, especially over varying temperature conditions?
For example, does your pressure transmitter consistently provide the desired accuracy at 50ºC? Also considering that long-term drift will add further inaccuracies what about sensor performance about 60 months from commissioning? Maybe it's time to check the spec!
Baumer's range of PFMH hygienic pressure transmitters are a good example of sensors which have been put to the test as a way of illustrating their reliability of performing satisfactorily over the long term. They were pitted against some other manufacturers' equivalent products to compare the full-scale accuracy (non-linearity, hysteresis, non-repeatability, zero-point and span) figures. The results indicated that the Baumer sensor retained its accuracy much better across the whole temperature range whereas others were almost +/- 3% accurate at only 50ºC.
This could have a huge impact when using pressure temperatures for hydrostatic level applications on outdoor tank installations with the likelihood of varying ambient temperatures. This could also have a detrimental effect on the efficiency of the system or machine, resulting in higher running costs and shorter life-span of components. It could also have a consequential effect on product consistency, especially for food and beverage applications.
Baumer's PFMH fully welded pressure sensors with hygienic connection, touch-screen control and flush membrane are designed to meet 3-A sanitary standards (FDA-compliant) and EHEDG requirements.
Ideal for pressure and continuous level measurement applications, they are resistant to all CIP (Clean-In-Place) cleaning media and are SIP (Steam-In-Place) capable to 150ºC Max, >60 min, with versions also available for high media temperatures up to 200ºC.
They also feature a built-in graphical display, with Baumer CombiView DFON available as an option and can be programmed by touch screen or with FlexProgrammer 9701. Other options include versions with additional relays, 4 to 20 mA with HART and also those with ATEX approval (4 to 20 mA output signal).  So when detail can make a big difference with the long-term accuracy and reliability of process automation sensors in food and beverage applications, it pays to check the spec.
More at:
https://www.baumer.com/gb/en/product-overview/process-sensors/pressure-measurement/c/303
Tel: +44 1793 783839              email:  sales.uk@baumer.comwww.baumer.com/gb/en/