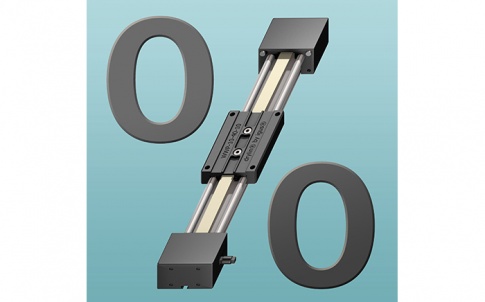 Motion plastics specialist igus has introduced a cost-effective alternative to its standard drylin ZLW linear guides for simple positioning and adjustment task. Available ready-to-install, the drylin ZLW eco is suitable for applications where a high degree of positioning accuracy and the ability to handle high loads and speeds are not key requirements. A typical application would be in a vending machine for dispensing packaged food or drink bottles.
The slides and trusses of the drylin ZLW eco are injection-moulded, which reduces the component count and therefore simplifies installation. The plain bearings of the carriage are made of iglidur engineering plastics, which are self-lubricating and maintenance-free, further benefiting the end application. Offered in two standard installation sizes, the drylin ZLW eco features an anodised aluminium drylin W profile. At the ends of the profile, plastic traverses are located for the drive technology. A neoprene toothed belt is tensioned between the trusses, which feeds back and forth a full plastic slide with a positioning accuracy of 0.3 mm. The stroke lengths can be individually determined by the user. Thanks to lightweight construction, the toothed belt axes weigh only 0.3 and 0.7 kg and can move loads up to 3 or 10 kg. Suitable motor kits are available as an option.
For more information about the drylin ZLW eco range, please visit: www.igus.co.uk/drylinZLW or call igus directly on 01604 677240.