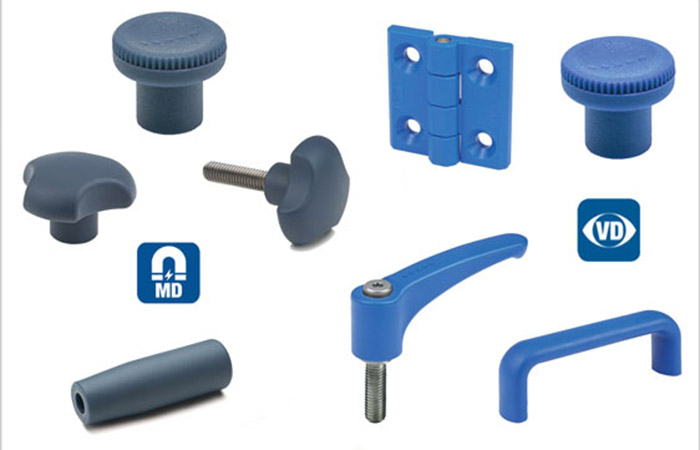 The designated High-Performing lines of standard components, from the global manufacturing group Elesa, are focused on the exceptional requirements of specific niche industries. In the case of these metal and visually detectable lines, they are designed to be especially easy to detect and remove in the unlikely event that fragments might be accidentally broken off or dislodged and thus fall into a food or pharmaceutical processor. Elesa metal and visually detectable components offer an additional line of defence and insurance against the potentially disastrous consequences of such an incident. Produced in the most advanced engineering plastics, they are developed in conjunction with selected suppliers and AISI 304 grade stainless steel, ensuring compliance with FDA regulations to help keep food-and-pharma products free of foreign matter (which may be inadvertently broken off from the processing equipment itself: e.g. by mechanical impact with mobile delivery systems).
These Metal detectable knobs, adjustable handles, bridge handles, cylindrical handles and hinges are manufactured in "green-blue" RAL 5001 material, suitable for contact with food (FDA CFR.21 and EU 10/2011), with a special additive which allows the detection of small pieces (down to 5mm) by means of a metal detector. This, coupled with their unusual colour for the environment, permits a two-stage detection. Where visual detection alone is employed in the production environment, Elesa offer "signal blue" RAL 5005, highly recognizable components in the same series.
The characteristics of these ranges contribute to increasing safety in food and pharmaceutical processes, consequently offering a high level of prevention against the risk of contamination of products for human consumption.
Further information regarding Elesa products may be found here.