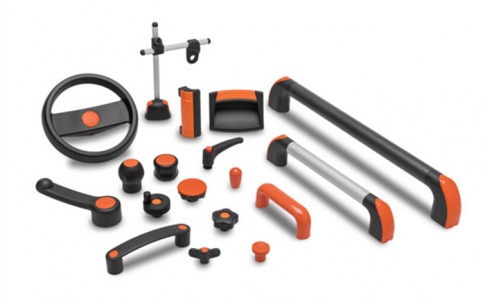 Among its over 40,000 product codes available in stock, Elesa offers an extensive selection of standard components, in the ELECOLORS* chromatic range: orange, grey, yellow, blue, red and black.
Livelier colours than the traditional grey and green "Reseda", typical of the mechanical industries of the past, these are now accepted and requested by a growing number of sectors. The reasons behind this new market requirement come from an aesthetics renewal process of machine tools and equipment that has transformed the design and requirements (not only technical) of the components.
The Elesa standard in your favourite colour
In addition to the award-winning elements of the Ergostyle line, Elesa offers many other standard components to meet the most common manoeuvring and clamping operations with coloured inserts or fully coloured. A range of products featuring different shapes, surface finishing and colours designed to perfectly fit the equipment they are destined for.
Thanks to Elesa's commitment to offer the highest quality standards also in terms of aesthetics, colours are controlled with the colorimetric spectrodensitometers to ensure maximum colour consistency and repeatability, both during production and over the entire lifecycle of the components.
Ergostyle and many others
In the 1990s, Elesa presented for the first time a line of standard components, the Ergostyle line. Characterised by elegant and ergonomic lines, Ergostyle introduces a new language for both shape and chromatic range, in six different colours. If ergonomics and design of Elesa products are distinctive features, colour is an additional option. The use of colour offers a perfect aesthetic compatibility between the components and the machines on which they are installed, enhancing the perception of their value and quality. Furthermore, colour allows a better differentiation of different machine functions, contributing to the benefit of the safety.
Further information regarding Elesa products may be found at: www.elesa.com or follow them on twitter: www.twitter.com/ElesaUK.