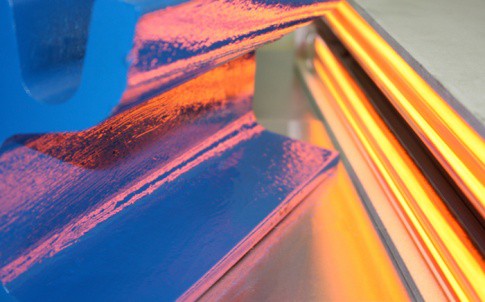 A series of comprehensive tests carried out at the Heraeus Noblelight Applications Centre in Neston, Wirral, in conjunction with Whitford Ltd, have demonstrated that Whitford's Xylan®  coatings are capable of being cured more quickly with Infrared than by using conventional, large footprint, hot air convection ovens. Specifically, Infrared offers the benefits of reduced process times and energy costs. Investigations are currently ongoing for using Infrared heating in the coating repair market in the offshore and chemical processing sectors.
Whitford is based in Cheshire and manufactures the largest and most complete line of high performance fluorpolymer coatings and sol-gel "ceramic" non-stick coatings for a wide range of applications. These include the coating of cookware and bakeware, small electrical devices and manufactured parts used in the aerospace, automotive, chemical processing and textiles sectors. The company is particularly well-known for its Xylan® range of coatings, which, because of their corrosion-, and chemical-resistance, and excellent sub-sea visibility, are widely used in the offshore industry.
Xylan® coatings are dry-film lubricants, which are combined in a matrix with the latest high temperature organic polymers. The result is a plastic alloy, which is known as "an extreme performance coating" which offers low friction, chemical, corrosion and wear-resistance and is also weather-resistant against sunlight and salt water. It can perform in a wide range of temperatures (-250°C to 285°C), it is very pliable and is also machinable, allowing multiple coats to be applied and then milled to specification. The coating can be applied to a wide range of parts from flat panels to complex geometry components, such as nuts and bolts to facilitate effortless removal after prolonged use in extreme conditions.
Whitford supply Xylan® to coaters/applicator's, who then apply the coating to multiple components. The Xylan® range offers excellent adhesion to most metals. However, most of the coatings in the Xylan® range require curing at elevated temperatures. Conventionally, this has been carried out using convection ovens, which can be energy- and time-consuming, as the whole mass of the part to be cured must be heated up to cure temperature. There is also no immediate control of the surface temperature of the part.
Consequently, Whitford decided to investigate the use of Infra-red curing technologies and evaluated this technology at Hereaus Noblelight. These were carried out on two specific Xylan® products; Xylan 1070 and Xylan 1424. Results suggest that infra-red curing can also provide similar processing benefits for other coatings in the Xylan 1000 and 1400 series.
The experiments carried at Heraeus were designed to address a range of variables, including lamp type, cure profile physical properties of the cured coating on flat panels and complex geometry components. Various wavelengths of infra-red were used including carbon medium wave, fast response medium wave, medium wave and short wave. All wavelengths proved to be a suitable alternative for curing Xylan coatings, Particular benefit was shown in the curing of large metal mass components, as infra-red heats only the surface of the substrate, with a reasonable degree of penetration, so that there is no need to heat the entire metal mass to the Part Metal Temperature (PMT), as is the case with convection ovens. This may provide significant savings in processing and oven dwell times.
Gareth Berry, in charge of the investigation for Whitford, stated  "The investigations carried out at Hereaus give Xylan applicators a viable alternative to convection oven curing, which could have cost- and time-saving benefits."
Heraeus specialises in the production and application of high quality energy sources covering the electro-magnetic spectrum from ultraviolet to infra-red. It has over 40 years experience in infra-red technology and offers the expertise, products and systems to provide efficient and effective solutions to drying, heating and curing problems throughout industry.