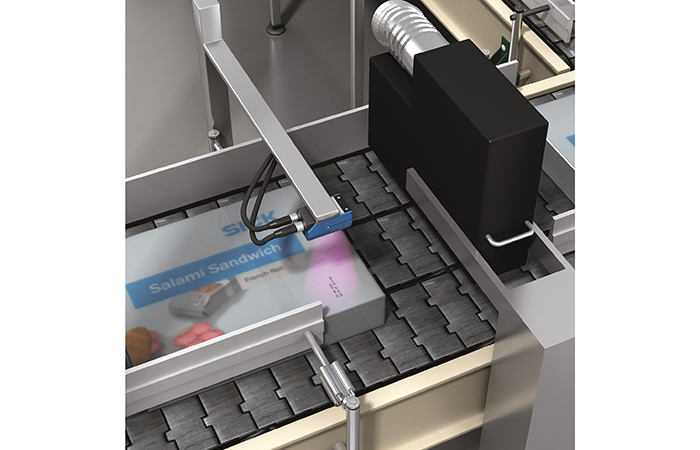 Quality inspection of printed alphanumeric codes on packaging is a critical high-speed, in-line process in food, pharmaceutical and other consumer goods to ensure dates, batch and line numbers are present, correct and legible.
In one of the first projects using SICK's AppSpace development platform, a collaboration between SICK UK and AutoCoding Systems has achieved the first fully-automatic smart vision inspection system for printed coding and marking.  
Since its launch more than two years ago, SICK has broken new ground with AppSpace, complemented by the roll-out of new AppSpace-compatible smart vision cameras with high-resolution and powerful on-board processing. As a result, specialist market-focused integrators are discovering new opportunities to create tailor-made solutions for their customers.
One such specialist is AutoCoding Systems, an integrator with global experience in automating line devices and production workflows in the packaging industry, who spotted a way of combining the existing strengths of its AutoCoding software environment with a new solution for automated print inspection.  AutoCoding's Managing Director Mike Hughes explains:
"With availability of AppSpace on SICK Smart Cameras, we realised we could work to fully integrate the printer to the print inspection application for the first time. We know from working with a number of different camera manufacturers that this has never been possible previously."
AutoCoding's 4Sight solution is a breakthrough innovation that operates on SICK's Inspector P smart vision camera.  It enables a direct closed-loop communication of the printed message from any brand of printer using standard inkjet, laser or thermal transfer technologies. The result is a directly networked connection between the printer and the smart camera, together with a unique ability to self-optimise the code inspection process. All processing is undertaken onboard the SICK camera where the 4Sight software resides, so no line-side PC is needed.
"Essentially, we have married together the knowledge that AutoCoding has of automating printers and the control of message content with the vision inspection application," says Hughes.  "We have developed a unique method for the inspection of printed codes, that confirms not only 'Is the code present? but is it in the right location? and is it legible?"
This new direct communication concept eliminates the time-consuming set-up that conventional vision systems need to be taught thousands of images and fonts. As the artificial intelligence is already pre-trained in the application, the AutoCoding system knows exactly the printed message it is looking for. So, the system adjusts automatically when the printer changes to a new job. At the same time, 'nuisance' line stops are avoided because there can be no false reads as a result of the packaging background, or due to acceptable natural variations in either print quality or location of the printed code.
A unique feature of 4Sight is the ability for users to choose between five distinct levels of 'inspection depth' to suit the customers' needs and optimise the level of inspection with the available time for image processing.
"While most users just want to check for presence, legibility and code location, some want to verify the accuracy of the printed code itself," explains Hughes.  "In standard solutions Optical Character Recognition (OCR) could be used. However, with 4Sight, if the printer is integrated with a code deployment system such as AutoCoding or other software system or coder management, the correctness of the printed code is always guaranteed – negating the need for OCR."
The versatility of 4Sight allows it to be used in 3 different ways:
Standalone: An image of the code to be inspected is taken by the camera prior to job start and the application is automatically configured to inspect the code throughout the job run.

Printer-led: there is a direct connection between the printer and the camera, so the camera understands the message it's looking for, based on preset configurations and rules.

Integrated with code deployment software, such as AutoCoding: the accuracy of the code is guaranteed.  The camera, therefore, only needs to check for presence, legibility and location of the printed code and OCR inspection is not needed, as the accuracy of the code is already guaranteed.
The 4Sight solution is one of a growing number of 'Apps' being developed by SICK's own R&D teams, as well as by partner integrators.  AppSpace promises huge flexibility for vision engineers and programmers in particular, because they can customise a SICK camera or sensor for themselves to create easy set-up solutions for end users.
For more information about SICK please contact Andrea Hornby on 01727 831121 or email andrea.hornby@sick.co.uk.  For AutoCoding Systems, please contact Janet Harrison on 01928 790444 or email janetharrison@autocodingsystems.com.