- Digital integration of manufacturing plants...
- AI-led quality control...
- Self-monitoring and evaluating machinery parts...
- Machine to Machine communications...
To many UK manufacturers, these advanced manufacturing processes and technologies of the Smart Factory of the future may well seem like unobtainable theoretical concepts. Historically, UK organisations have been very slow to embrace automation and manufacturing technologies.  When meeting with potential new customers, we at Idhammar Systems have found that a sizeable number of UK manufacturing SMEs have what can only be described as a coping mechanism built of scraps of paper at worst and wheezing, overloaded spreadsheets at best for their maintenance management and overall equipment effectiveness systems.
The MHA's 2016/2017 Manufacturing and Engineering Annual Report found that "74% (of UK manufacturers) don't understand the principles underlying 'Industry 4.0', which suggests that we need more work to be done on educating the sector if it is to remain competitive."
Despite this stark warning, it would be impossible to make the leap from paper and manual spreadsheet systems to a Smart Manufacturing plant with simply the introduction of a new piece of equipment or software; it has to be a journey where equipment, employees, methods and processes are gradually transformed by both technologies and root and branch cultural change.
Idhammar Systems have both the products and the expertise to begin our customers' journey towards Factory 2050. One of our customers, a UK company of around 150 employees, manufacturing technical injection moulded products ("Moulding Inc"), at the start of our project had some basic, disparate records on equipment maintenance.  With the implementation of Idhammar MMS (computerised Maintenance Management System) they will experience benefits from:
- improved asset performance from minimised unscheduled equipment downtime
- operating and inventory cost management and control, and the elimination of unnecessary capital expenditure
- reduced risk from timely management reporting and audit trails
- effective management of personnel and workloads,
- enhanced communication from rich data and configurable reports
Rather than rely solely on the functions and benefits provided by Idhammar MMS, Moulding Inc also needs to gather downtime data automatically to show all inefficiencies in their manufacturing operation, not only those due to maintenance-related stoppages. Human curiosity and problem-solving skills are therefore just as important as the software.
The way that Moulding Inc management implement and introduce any new technology to the workforce is crucial to its success.  Engaged management can make the technology work for both the company and the employees; the key here is not to just install new software, leaders should imbue the company with a new mindset of embracing change.
Software such as Idhammar MMS is a technological stepping stone of this Culture Change; data-rich real-time reporting driving well-informed decisions, smart workload management improvements and improved visibility of maintenance and asset performance.
To ensure buy-in, Moulding Inc leaders need to consider the human element amidst the technology and communicate clearly that automation, improved communication and wider availability of information is a benefit to the operator and the technician.  The journey/process will improve the competitive edge of the business, make the working day easier and is not a threat to job security.
Employees may fear they could lose their job to a robot, but they key is to communicate that automation is best deployed when it does jobs that are Dull, Dangerous and Dirty. This is therefore not a threat, but an opportunity for employees to focus on work that is more interesting and rewarding.
Once the workforce at Moulding Inc has accepted the new CMMS technology, we can help them move further along the path to IR4. With Idhammar Mobile MMS Moulding Inc will have tablet and smartphone connectivity between machines and people, synchronising engineers' Work Orders wirelessly with the central CMMS.
The hardware, software and communications technology required to link an unplanned stoppage or inefficient process to a technical export, to a materials availability status, to a Root Cause Analysis algorithm, then on to a specific countermeasure to prevent recurrence was already in place at Moulding Inc. They just needed Idhammar's suitably configured MMS to realise the interconnected benefits.
This connectivity brings a wealth of benefits for organisations:
- Key staff are always available, whether at their desk, working in operational areas or off-site
- Paperwork is eliminated and efficiency is improved through real-time information visibility
- Improves safety compliance and reduces risk
- Accelerates response time to critical failures
- Improves workflow planning and productivity
- Improves accuracy and reliability of data
- Increases manufacturing velocity
The vastly improved quality of data that Moulding Inc will now be able to gather with their Idhammar MMS will kick-start a cyclical process of data driving knowledge, in turn driving profitability and reinvestment in data technologies. With this approach Moulding Inc and its employees will have a robust corporate mindset of embracing change, and improved bottom line for technology investment.
As well as the threat from lack of future technology knowledge, UK industry is currently experiencing a skill-shortage. In response, many UK manufacturing businesses are investing large sums into automation technologies and efficiency software to streamline and improve production line performance, in conjunction with adopting lean strategies to cut costs, and improve productivity, sustainability and profitability, generating income to further invest in technology.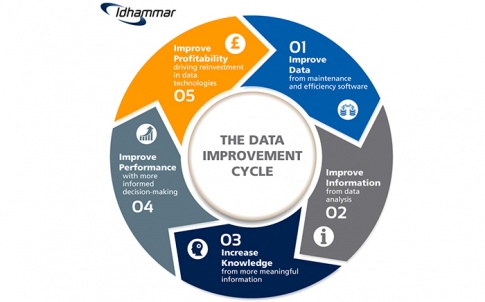 An investment such as Idhammar MMS is not just about maximising efficiency or minimizing downtime: technology frees companies to maximise the human potential of their employees: curiosity, collaboration, creativity, and other traits that software and robots will not be able to replicate.
Develop a plan now for your plant's journey towards IR4, don't ignore technological opportunities and squander workforce potential because you are daunted by the scale of the challenge. A journey begins with a single step; contact Idhammar Systems today to start yours with world-class MMS and OEE software.
Email info@idhammarsytems.com, visit www.idhammarsystems.com/wcm/ or call 0117 920 9418 for more information