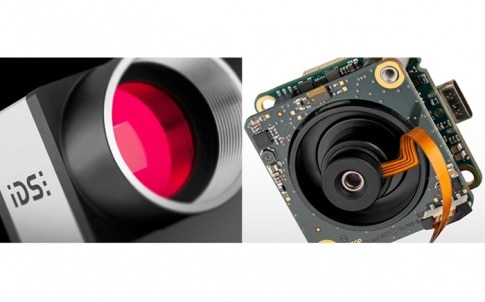 At VISION, IDS Imaging Development Systems GmbH will not only present new models of the vision app-based platform IDS NXT but also pioneering solutions for 3D image processing. The new Ensenso XR series with integrated data processing will be shown for the first time. Novel focusable USB 3.1 Gen 1 board level industrial cameras with liquid lens control will be on show at exhibition stand in hall 1, 1F72, together with additional product innovations and numerous live demonstrations for visitors.
IDS is very familiar with the role as a pioneer: the company was among the first to use USB as an interface for digital industrial cameras. At VISION it will introduce new models, functions and applications which demonstrate that the IDS NXT platform of vision app-based industrial cameras can change the image processing industry in a similar way. For example, the app-based approach allows recurring vision tasks to be set up and changed easily and in a very short time. With the ability to create any vision-based app, IDS NXT can be used in numerous applications and industries.
For higher flexibility regarding 3D vision applications, the camera specialist will also present a prototype of the new Ensenso XR series with on-board processing: In contrast to the cameras of the N and X series, which use computers to calculate the 3D point clouds, this model can calculate them itself. Moreover, the 3D data can also be transferred directly to a control unit via GenICam in the future. Ensenso XR hence enables new scopes for application design, accurate acquisition of details and significant acceleration of data processing.
Various demonstrations will emphasize what the different products in the camera manufacturer's portfolio are capable of. For example, IDS will show the new USB 3.1 Gen 1 board level cameras with liquid lens control. They facilitate image acquisition at variable object distances as their focus can be readjusted quickly and comfortably via user interface or API. The cameras are available with a 6.4 MP rolling shutter sensor from Sony or the highly photosensitive 18.1 MP rolling shutter sensor from ON Semiconductor, and are equipped with S-Mount or CS-/C-Mount, twist-proof USB Type-C connection and practical USB power delivery.