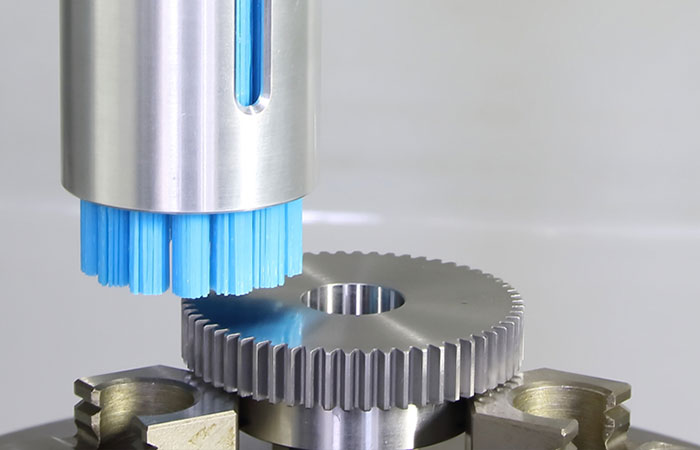 Market leaders in precision surface finishing technology, Kemet International have been supplying Xebec ceramic abrasive stones for many years within our Precision Engineering Tooling Division.
Kemet are now pleased to introduce the latest deburring polishing brushes from Xebec, used for polishing ferrous and non-ferrous materials, effectively removing cutter marks, and improving surface roughness on top surfaces, side, inner diameters (hole deburring), and channels.
Xebec Technology's ceramic fibre products utilise a unique, patented process to produce brushes, sticks and stones that greatly outperform traditional deburring methods.
One Xebec ceramic bristle consists of 500 – 1000 ceramic fibres that work as cutting edges, the cutting fibre being the world's only brush made by continuous ceramic fibre.  This unique material allows for higher grinding power, consistent performance and superior surface finish, the fibres being formed into bristles for brushes or bound into stones.   The self-sharpening tips offer vastly superior grinding capability, while end-to-end solid abrasive rod material assures consistent performance.
Unlike brass wire, steel wire and abrasive impregnated nylon brush filaments, the unique design of the Xebec fibre rod allows it to maintain its shape with no deformation even after repeated use.   This leads to consistent performance time after time, achieving a beautiful, finely finished surface without tool marks or residues.
The Xebec ceramic fibre offers unsurpassed grinding power, consistent cutting performance and zero deformation and these three features enable a quantum step forward in CNC deburring and polishing.
Across a wide number of sectors, Aerospace, Automotive, Energy, Medical, Production manufacturing, introducing Xebec deburring tools into the fabrication process can significantly increase productivity, decrease cycle times, and offer repeatable dimensional component accuracy.
Kemet have a team of technical experts in the U.K. to assist with your manufacturing and advise the most efficient, cost saving solutions for your production.
To make positive improvements to deburring and polishing with Xebec ceramic technology contact Kemet.