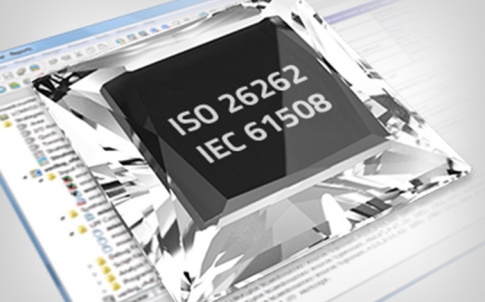 TÜV-certified design methodology enables Lattice automotive grade FPGAs to meet latest safety requirements, accelerate time-to-market and reduce cost.
- Expands safety design qualification with Road Vehicles Functional Safety (ISO 26262) for automotive applications, in addition to existing Functional Safety for E/E/PES qualification (IEC 61508) for industrial applications
- FPGA Functional Safety Design Flow, certified by TÜV Rheinland, adheres to the latest safety design methodology, saving time and cost
- Based on Lattice Diamond® Design Tools 2.1 the Functional Safety Design Flow solution supports automotive-grade devices like MachXO™, LatticeXP2™ and LatticeECP3™
Lattice Semiconductor Corporation, the leading provider of customizable smart connectivity solutions, today announced the qualification of its Lattice Diamond 2.1 software for Road Vehicles Functional Safety. The ISO 26262 Certification defines a safety compliant methodology for automotive applications throughout the lifecycle of automotive electronics and integrated safety systems. This ISO 26262 qualification complements Lattice's already existing Functional Safety of Electrical/ Electronic/Programmable Electronic Safety-related Systems (E/E/PES) qualification (IEC 61508). Both of these are certified by TÜV Rheinland, Germany, the industry's testing, inspection and certification service. By adhering to the latest safety design methodology for road vehicles or automotive applications, Lattice Diamond 2.1 software enables a faster time-to-market and reduces costs in the development of automotive applications.
"With our proven Lattice Diamond software, we continue to ensure that the latest industry safety qualifications are met. With the ISO 26262 Certification, we are enabling OEMs to design and develop solutions that meet the stringent requirements of functional safety in automotive applications, ultimately saving time for integration and lowering costs," said Jatinder Singh, product marketing manager at Lattice Semiconductor. "As a result, implemented designs offer more robust functions that have been validated and verified by ISO 26262 safety requirements."
Lattice Diamond software offers leading-edge design and implementation tools optimized for cost-sensitive, low-power Lattice FPGA architectures. The software features design exploration, ease of use, and rapid design flow. The Functional Safety Design Flow solution, based on Lattice Diamond 2.1, covers product development using FPGAs for design, implementation, integration, verification, validation, and production release. Delivering a complete automotive development solution, the Lattice Diamond 2.1 software supports automotive-grade devices such as the MachXO, LatticeXP2 and LatticeECP3:
- MachXO is a non-volatile FPGA that can be used for glue logic connectivity, simpler motor control, and networking such as LIN and CAN-FD.
- LatticeXP2 is a non-volatile FPGA with DSP blocks and applications ranging from advanced motor control algorithms for powertrain applications, networking and connectivity applications.
- LatticeECP3 brings the high-speed SERDES capability to automotive devices, which can be used for display controllers, high-speed networking (Gigabit Ethernet), advanced motor control, connectivity and Advanced Driver-Assistance Systems (ADAS).
About Lattice Semiconductor
Lattice Semiconductor (NASDAQ: LSCC) is a leader in smart connectivity solutions at the network edge, where the "things" of IoT live. Our low power FPGA, 60 GHz millimetre wave, video ASSP and IP products deliver edge intelligence, edge connectivity, and control solutions to the consumer, communications, industrial, compute, and automotive markets. Our unwavering commitment to our global customers enables them to accelerate their innovation, creating an ever better and more connected world.
For more information about Lattice please visit www.latticesemi.com.