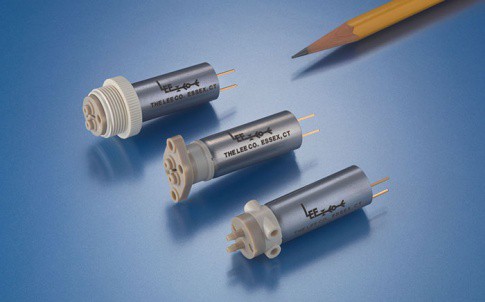 Innovation in miniature continues to be the mission for THE LEE COMPANY proven by their ability to develop innovative miniature precision fluid control components. A good example of this is their new LFV Series 8000 2-way inert solenoid valve which is ideal for critical flow applications in clinical chemistry, flow cytometry and haematology machines.
These 2-way chemically inert isolation style valves represent the next generation of the classic 2-way, normally closed (NC) inert LFV valves providing an on/off function in a critical fluidic circuit ensuring zero dead volume and extremely low internal volume. They incorporate a diaphragm seal that isolates the fluid from the inner components to provide a consistently reliable switching performance. They are also rated for bi-directional flow and feature a contoured path design which allows for complete flushing capability.
The valves small size ensures a more compact instrument footprint and means less fluid is needed enabling closer valve spacing. Other key benefits include; long-life operation which contributes toward reduced maintenance and lower installed cost, low power consumption ensuring less heat generated and a smaller power supply. They are chemically inert, flushable, and critical fluids are only in contact with the port head and diaphragm with no metallic contact.
They are flow rated at 1250 Lohms maximum and pressure rated at vacuum to 30 psi and are available with push on ports for soft tubing or two manifold mount styles, which now  utilise O-rings instead of gaskets made from the same material as the diaphragm.
LFV valves are generally used in medical and scientific applications including in-vitro diagnostics, human genomics, biotechnology, environmental analysers and other critical OEM devices. Each valve is 100% functionally tested for performance and use materials that ensure a consistent and long-life performance.  ENDS.
More at: http://www.leeproducts.co.uk/electro-fluidic_systems.htm