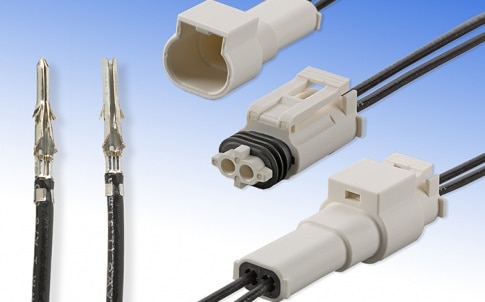 Innovative one-piece Molex ValuSeal Wire-to-Wire Connectors achieve industry-leading cost efficiencies and offer IP65 sealing protection, and can now be sourced in Europe through TTI, Inc., a world-leading specialist distributor of electronic components. Aimed at consumer, non-automotive transportation and industrial applications, Molex ValuSeal Wire-to-Wire connectors have a one-piece housing design which simplifies assembly processes by reducing part counts, while crimp-and-poke wire assembly offers additional cost efficiencies.  Their compact 4.00mm pitch enables greater design flexibility in applications where space is severely limited.
Thanks to their IP65-rating,  achieved with an integrated wire-and-ring seal for wiretypes 16 AWG UL1061, 18 AWG UL1007 and 18 AWG UL 1095,  any possibility of dust ingress is eliminated and the Molex ValuSeal connector is protected against low-pressure water jets from any direction, making them suitable for applications that operate in wet and harsh environments. Integrated wire strain-relief in the connector body prevents over-bending and failure of wire at the connector body, as well as eliminating leak paths often found in other connector systems. The Molex ValuSeal Wire-to-Wire connector system features positive latching to ensure proper mating and high disengagement force between the plug and receptacle.
Applications for the range include: industrial robots; food equipment and processing plants; forklift trucks, trailers, buses, RVs and commercial vehicles; consumer appliances such as washing machines, fridges, HVAC equipment; disposable medical equipment, patient monitoring equipments; outdoor lighting and smart metering, among many others.