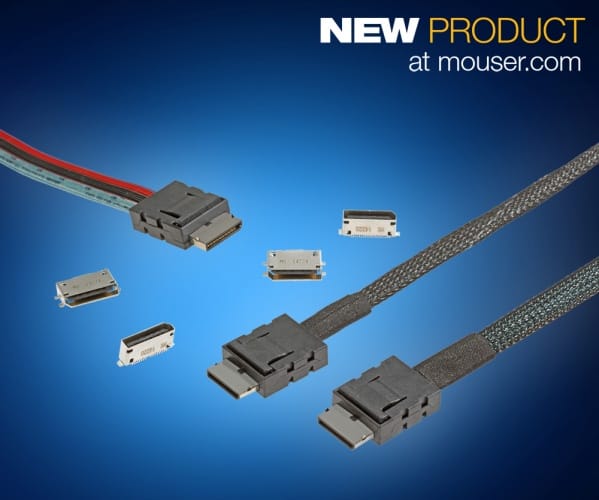 Mouser Electronics is now stocking the Nano-Pitch I/O interconnect system from Molex, LLC. The system's multi-protocol pinout concept enables compatibility with all known SAS, SATA and PCIe protocols and provides enhanced signal integrity in an extremely compact form factor. The connector is suitable for SAS and PCIe applications, including storage-to-controller, server-to-server, server-to-switch, switch-to-switch, and mobile and enterprise.
The Molex Nano-Pitch I/O interconnect system, available from Mouser Electronics, benefits new high-performance applications by delivering robust, small-form-factor, high-speed and multi-protocol interconnects ideal for both internal and external solutions. The Nano-Pitch I/O system features a continuous ground-signal-signal-ground pinout concept, which optimises it for high-speed applications and maximises the number of high-speed lanes within the lengths provided. The system provides up to 12 gigabits per second (Gbps) per channel in SAS 3.0, and up to 16 gigatransfers per second (GT/s) per channel in PCI Express. The system's low-profile connector solution supports SAS-3/SAS-4 and PCIe Gen 3/Gen 4 interfaces, while the 42-circuit, 0.50mm-pitch, metal shell SMT connectors are available in both right-angle and vertical versions to fit a variety of placement options.
The Nano-Pitch I/O system offers staggered, reliable and constant dual-row contact configuration, enabling engineers to add components without shutting down the system (known as hot pluggability). The connectors also provide optimal routing for high-speed trace connections while reducing the need for PCB real estate. The Nano-Pitch I/O interconnect system provides inventory and manufacturing assembly efficiencies in data center and enterprise storage systems, storage racks, storage controllers, and host bus adapter (HBA) servers, as well as telecom hubs, servers, switches, and routers.