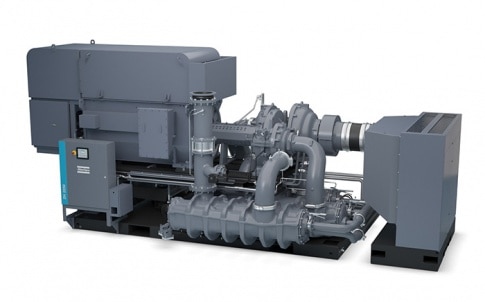 Atlas Copco has launched the ZH 1000-3150 oil-free centrifugal air compressor. Offering a combination of high flow and low energy consumption, the ZH 1000-3150 is designed to meet the needs of large air users who are looking for a high-volume centrifugal air compressor delivered as a standard package.
"Budgetary restrictions mean that some companies are looking for standardised solutions instead of customised units," says Mark Ranger, Business Line Manager for Oil-Free Air at Atlas Copco Compressors. "The advanced technology incorporated into the ZH 1000-3150 minimises a customer's overall operating costs through low maintenance time and optimised operational efficiency, whilst providing the high air flow necessary for their applications."
The ZH 1000-3150 is an all-in-one oil-free air compressor, well suited to the needs of air separation, steel production and the chemical industry. All elements including internal piping, coolers, motor, lubrication, inlet guide vanes and control system are supplied in a standard package in a built-to-last design. Stainless steel cores minimise corrosion and increase operating lifetime. Installation is simple due to its integrated package design, and commissioning is quick. Optional features allow customisation to a specific production environment.
The unique design of the ZH 1000-3150 allows a turndown of over 25 per cent before blow-off, maximising energy savings and minimising operating costs. Standard inlet guide vanes save up to 9 per cent more energy at reduced flows compared to many competitive units. Efficient cooling increases both reliability and energy efficiency and maximises thermal transfer.
In the production of quality industrial gases for example, you need to start with quality compressed air. ZH oil-free air compressors provide clean air with ISO 8573-1 CLASS 0 (2010) certification. No external instrument air is required for "Class 0" certification due to its unique seal design.
The ZH 1000-3150 works together with Atlas Copco's new Optimizer 4.0 central controller. It enables a compressed air system to be optimised through selection of the most efficient combination of machines, such as compressors, dryers, filters, energy recovery systems, air receivers, coolers and boosters. Through a highly intuitive user interface, the end-user can view the performance and energy consumption of each machine as well as of the whole system.
Moreover, Optimizer 4.0 is fully Industry 4.0 compatible, enabling the Internet of Things and the digital integration of the compressed air system with other intelligent networked devices to improve equipment performance, enhance predictive maintenance and further increase energy efficiency.