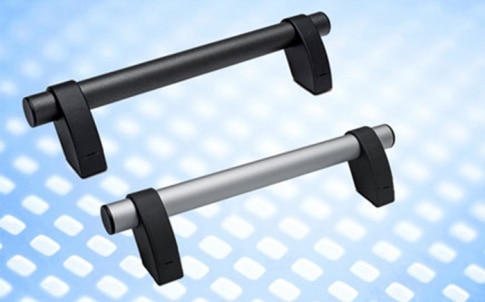 Use of 30/40mm aluminium profiles for construction of equipment housings or screens and guards in machine shops has become a standard system in manufacturing industry and other industrial environments. These new handles from Elesa are a great help in providing door pull handles for machines and associated protective devices.
Elesa tubular handles with either pass-through or fixed-end mounts act as bridge or grab door handles for single or double handed operation on heavier panels. Their offset mounting enables operation from the side or use on opposing doors where a straight installation would produce conflict or interference in operation.
Elesa M.1053 series tubular lift and pull handles in 30mm dia. aluminium are either epoxy coated or anodised – standard colours are black, grey or white with matching glass reinforced polyamide mountings.
Further information regarding Elesa Profile Compatible products may be found at:www.elesa.com/en/elesab2bstoreuk/high-performing-items--1/profile-compatible--1 or follow them on twitter: www.twitter.com/ElesaUK.