March 24, 2022 - In keeping with industry's increasing demand for on-site gas generation systems, Atlas Copco has launched its latest advance in nitrogen production technology, the NGM+ 7-70 upgraded,10-model range capable of producing high quality nitrogen 20% more efficiently than that offered by comparable membrane generators.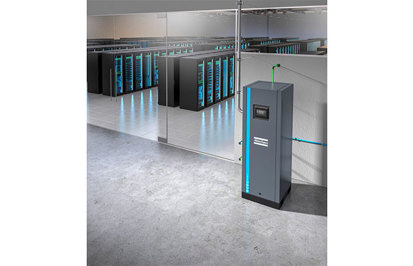 The new range provides a highly efficient, compact, simple, and low-cost on-site solution for N2 requirements. Thanks to Atlas Copco's premium membrane technology, the NGM+ generators require 20% less feed air than traditional membrane systems and, because they require less energy input per unit of N2, they offer the lowest total cost of ownership in their class.
Operational cost savings

The NGM+ design also minimises operational costs by eliminating the need for a feed air heater to reach maximum capacity, as is commonly employed to enhance performance of some other generators, but which adds significantly to energy bills.
The next-generation NGM+ 7-70 units replace the existing NGM+ 1-7 range. Available in 10 model sizes, their volume and nitrogen purity outputs are related to the number of high-performance, highly durable, pre-aged membrane modules installed.
Easy to install and use

Easy to install and use, each generator comes as a complete, plug-and-play package complete with gas purity sensor, feed air monitoring, and gas purity regulation valve included as standard. Its intuitive Elektronikon® Touch controller allows for easy gas purity setting and alerts users to any purity anomalies in the N2 output.
Compact and quiet

Designed for low-noise operation, the NGM+ can be sited at the point of use on the production floor, and with its premium filtration fully integrated, the generator offers a compact, uncluttered footprint. For operations with a stable flow, the NGM+ even eliminates the need for external tanks.
The new NGM+ can also be combined with a traditional cylinder or bulk gas supply system. In addition to the general industry version, Atlas Copco has developed a dedicated marine NGM+ that is fully compliant to the major global classification societies' requirements.
Reliable and stable nitrogen supply

Membrane technology is inherently simple to operate, offering a continuous supply of nitrogen with a stable purity. The NGM+ maximises this reliable performance, producing dry, high-quality N2 at the lowest air consumption. Its pre-aged membranes eliminate performance loss after commissioning. A soft start protects membranes and extends unit lifetime. Advanced control and monitoring features safeguard the reliability of the generator and the quality of its output.
For more information on Atlas Copco's NGM+ range, please visit https://www.atlascopco.com/en-uk/compressors/products/gas-generator/membrane-nitrogen-generators/ngm-plus-membrane-nitrogen-generator-7-70?amc_cid=aff_NGM+_PR