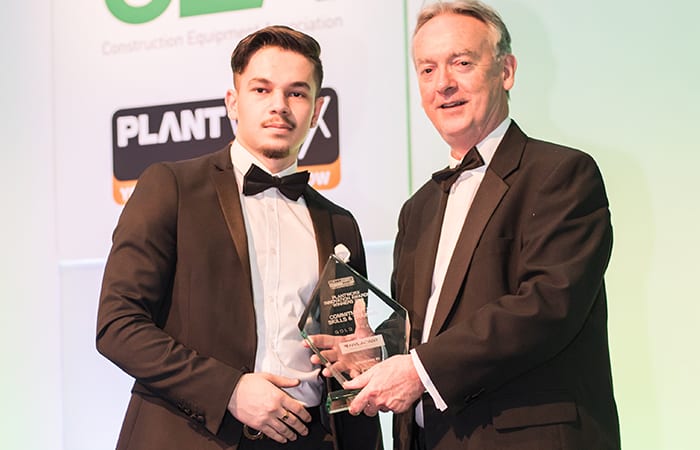 Materials technology specialist Nylacast scooped the gold award for commitment to skills and training at the Plantworx Innovation Awards 2019.
The engineering firm were announced as winners and presented with the prestigious award following the CEA's (Construction Equipment Association) annual conference, during a Gala Dinner, hosted by snooker legend, Steve Davis OBE.  More than 150 guests attended the presentation, which took place at the East of England Arena in Peterborough on the evening of 21st March 2019.
Innovation in the industry comes in many forms – from new machines to safety initiatives, and from simple solutions to the latest digital technology. The best innovations in the construction and rail equipment sectors were celebrated with the announcement of the Plantworx Innovation Awards 2019 Winners.
Investing in a dedicated training academy at Nylacast World Headquarters in Leicester, the on-site facility delivers numerous training programmes and courses aimed to nurture local talent and unlock further potential within its team members.
The company champions engineering for all age groups having forged strong links with schools, colleges and universities across the UK. Nylacast were recently announced as the first engineering partner to the National Space Centre's IGNITE programme, focused on developing future scientists and engineers.
The Nylacast training academy accommodates eight to ten apprentices per year and so far has developed over 40 students into full time engineers and team members.  Keen to promote apprenticeships as a pathway to engineering careers the company regularly visits schools and colleges and holds open days and site tours to visually demonstrate the many roles available in industry.
The Nylacast training academy is also used to up-skill and develop the current workforce on the latest engineering innovations, productions methods and processes.  This includes vocational leadership and management courses and health and safety courses.  The company also regularly combats pressing issues and taboo topics by delivering workshops and training on physical and mental health and wellbeing courses including cancer awareness seminars, mental health awareness workshops and yoga classes for stress management and overall wellbeing.
Junaid Makda, Group Marketing Manager at Nylacast, said "Nylacast are humbled to have received this accolade and be recognised as industry leaders in skills and training.  Our versatile academy not only helps to bridge the engineering skills gap, but enables us to cultivate a wide portfolio of training programmes to develop our people and enhance our operations.  This award pays homage to the tireless dedication of our 530 team members who regularly contribute to the academy's activities."