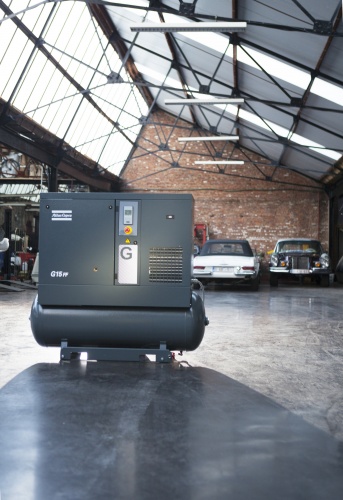 Atlas Copco has introduced a new generation of powerful yet quiet oil-injected rotary screw workplace air compressors, which are available in 7kW, 11kW and 15kW variants with flows varying from 29.5-68.7 cfm. The G7-15 series of compressors replace the previous GX7EL and GX11EL models and offer a number of enhancements in terms of energy efficiency and reliability, including increasing Free Air Delivery (FAD) by up to 3 per cent.
Paul Clark, Business Line Manager, Industrial Air Division, Atlas Copco Compressors UK & Ireland, said: "G7-15 compressors are designed to operate continuously in harsh conditions, including temperatures of up 46°C, and offer low sound levels ranging between 65-67 dB (A). This makes them ideal for small businesses, such as automotive workshops, who wish to avoid costly downtime and require a dependable source of compressed air located right in the heart of their workplace."
To help users minimise their energy costs and optimise efficiency, the new compressors come equipped with an easy-to-use electronic base controller that displays running hours, service warnings and temperature readings. Meanwhile, the working pressure is monitored via a pressure transducer and can be adjusted directly from the electronic controller.
Easy installation is ensured due to an extremely small footprint and vertical cooling air discharge that enables the compressor to be placed against a wall or corner; making the most of users' valuable floor space in the process.
All G7-15 compressors are manufactured in a facility that is certified to ISO 9001, ISO 14001 and OHSAS 18001 and include Atlas Copco's patented, state-of-the-art rotary screw compression element. This provides users with low energy consumption and high output of compressed air, while allowing for a 100 per cent continuous duty cycle and up to a 13 per cent reduction in noise levels compared to other compressors on the market. G7-15 series compressors include an IP55 (TEFC) motor, guaranteed to meet or exceed IE efficiency requirements, air-oil separator and inlet air filter as standard.
G7-15 oil-injected rotary screw air compressors are available with or without a tank, and as a stand-alone unit (Pack) or with an optional integrated air dryer (Full Feature) that efficiently removes moisture. Optional filters are also available to remove aerosols and dirt particles.