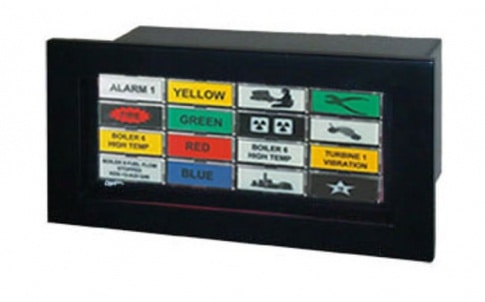 The Omni16 Intrinsically Safe Annunciator has now been re-certified as category Ex ic, which is more appropriate to this class of electronic instrumentation. This means that the Omni16C Ex ic Annunciator is suitable for use in hazardous areas (Zone 2, gas and dust, Propane to Hydrogen) in accordance with international standards IEC60079-0 and IEC60079-11.
Non-Sparking Annunciators that are currently in service can still remain in service indefinitely. If the unit has to be replaced at some stage then the new unit would have to comply with the revised specifications.
The main difference between the Ex nL and Ex ic standards is that the enclosure now does not have restricted breathing requirements. Ex nL design requirements referred mostly to IEC60079-11. Also there are now no special requirements regarding the power source (other than the correct voltage) as protection against inadvertent connection of incorrect power supply is included in the Ex ic design. Installation for Ex ic category is effectively the same as for non-sparking equipment.
- Approved for Connection to SIL1 Loops
- Approved for use in Zone 2 Areas (Gas and Dust , Propane to Hydrogen
- Complies with Explosion Protection Standards IEC60079-0 and IEC60079-11