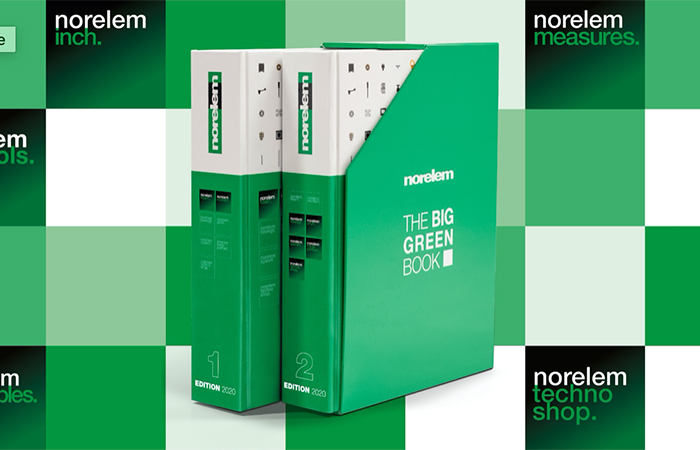 norelem's range of energy chains now include plastic energy chains, ensuring cables and wires can be optimally routed and protected.
With simple line assignment and flexible design options, engineers have an even greater choice when it comes to routing cables and hoses in applications ranging from CNC machine tools and packaging equipment through to high-bay warehouse systems. norelem's energy chains are modularly constructed and so can be quickly and easily shortened or extended.
Easy to install with pre-installed plugs, norelem's range of energy chains boast chain links that can be individually opened, making it even simpler to route cables and hoses. If several cables are laid in the chain, dividers are ideal for separating each chain.
norelem's energy chains come in a range of internal heights of 12 to 45 mm, as well as internal widths up to 200mm and various bend radii. The plastic material is UV-resistant as well and is therefore suitable for outdoor applications. As standard, the energy chains are preloaded in order to obtain the maximum self-supported length. The preload produces a camber in the upper run of the self-supported length and also provides high torsional stiffness keeping cables and wires protected.
The new plastic range further complements the numerous versions and accessories available through norelem's THE BIG GREEN BOOK, which also includes mounting brackets that ensure reliable attachment of the energy chains when installed and tension relief solutions.
Marcus Schneck, CEO of norelem, said, "Energy chains are used every day in industrial applications to carry and guide power to moving parts of machines or structures. Care needs to be taken to ensure these cables and wiring remain protected - easy to install and maintain, our range of energy chains is readily available to keep power transmission systems running smoothly, safely and efficiently."
Engineers can find the components in norelem's definitive catalogue, THE BIG GREEN BOOK. Datasheets and CAD drawings are available online, and can be ordered directly through norelem's web shop.
For more about norelem, please visit www.norelem.co.uk.