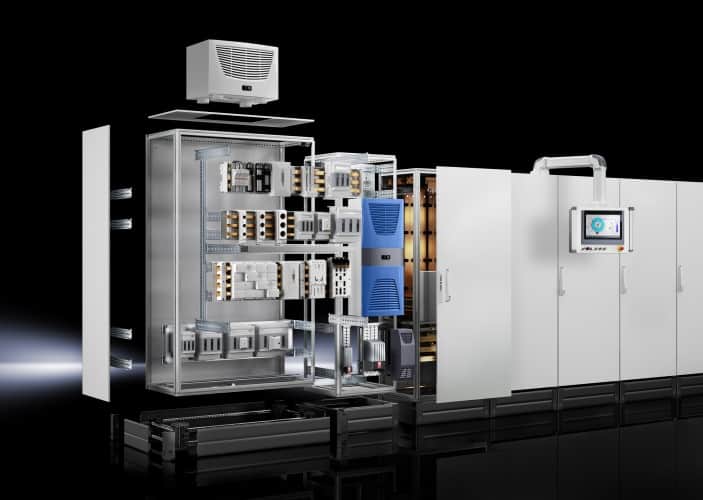 Rittal will be showing its Blue e+ climate control system at Drives and Controls 2016.
The Blue e+ climate control system was launched last year and offers outstanding energy
savings and flexibility.
There will also be the chance to understand more about panel building automation, as well as servicing and maintenance programmes, designed to maximise a system's efficiency, flexibility and longevity.
The company's infrastructure system, Rittal - The System, offers five perfectly matched modules: rack, power, cooling, security and monitoring and remote management.
Based around Rittal's TS 8 control cabinet and TS IT rack system platform, it offers modular,
custom-fit solutions, providing maximum rack volumes, high levels of surface protection, stability and endless expansion possibilities.
Today, more than 10 million TS 8 bayed enclosure are deployed across a huge range of industries worldwide. Critical to its success has been its flexibility and efficiency, high quality, safety standards, and its global availability.
Also on show will be a selection of Rittal's top-selling, cost-effective wall boxes. Compact Enclosures AE provide highly technical solutions to protect the valuable systems within. Their attributes and many benefits include corrosion resistance and a range of accessories for easy assembly as well as security and environmentals.
The award-winning Blue e+ climate control system is a major advance for both the industrial and IT sectors and provides benefits to all users. It addresses common problems of panel builders, systems integrators, original equipment manufacturers and end users alike.
As well as being far more energy efficient than existing cooling solutions, the Blue e+ uses state of the art technologies to deliver greater flexibility, safety and ease of handling.
Key to the efficacy of the Blue e+ is Rittal's innovative patented hybrid system, which uses a clever combination of a compressor cooling device and a heat pipe to take maximum advantage of passive cooling.
As a consequence, energy savings have been up to 75 per cent better than conventional units – a quantum leap forward for cooling systems, and a major incentive for manufacturers seeking to minimise steep rises in energy prices.
Visitors to Drives and Controls 2016 will also be able to find out more about Rittal's popular busbar systems and the modular Ri4Power power distribution system supported by latest Power Engineering design software.
The latter provides comprehensive support in planning and verifying compliance to the IEC 61439-1/-2 switchgear and controlgear standard.
As with all Rittal's solutions the power distribution range has been subject to the most stringent testing, demonstrating their capability to operate in the toughest and most demanding environments.
The machines and solutions provided by Rittal Automation systems facilitate the optimisation of the complete work-flow in Rittal's panel building manufacture, from machining of the panel parts and automated wiring of the panels to testing of the finished panel, supported by a diversity of handling systems such as the Assemblex.
This expertise is aligned with Rittal's other subsidiary companies Eplan (design) and Cideon (technical IT integration).