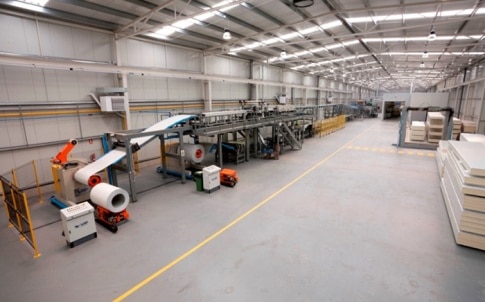 UK manufacturer Rotary Power is working in partnership with the CEDEPA plant, based in Spain, which tests and prototypes solutions for the processing of polyurethane panels.
Located in Navarre, the Research and Development centre for panel innovation was set up by Dow Chemical Co. and Italian machinery manufacturer SAIP Equipment, to test materials and equipment solutions for use in the construction industry.
Rotary Power's C range pump has been commissioned to support the testing at CEDEPA, which stands for centro de desarrollo del panel en continuo or the continuous panel development centre. The centre showcases a complete, industrial-scale production line for the manufacture of sandwich panels.
Mr Walter Pozzi, Owner of SAIP, Pozzi Industries Group, said: "Our goal is to help our customers to develop and implement new solutions for making polyurethane insulation panels, by the continuous double-lamination process. Rotary Power pumps have the qualities we need to achieve that."
Headquartered in the UK since 1968, Rotary Power manufactures hydraulic motors and pumps from its factory in the north east of England. The company moved into its current premises six years ago following a large scale investment into new machinery, in order to further develop its range of polyurethane pumps and heavy duty motors.
Andrea Amione, the Rotary Power Sales Manager in Southern Europe, said: "We supply our pumps in to some of the biggest polyurethane machine manufacturers in the world. This collaboration with SAIP and CEDEPA is a reflection of our product's high quality and robustness. We are excited to be a part of the testing as the industry discovers new formulations to accelerate the development of polyurethane panels."