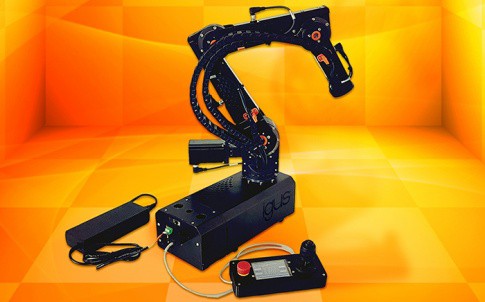 Cost-effective automation of simple tasks is the aim of the igus robolink product range. In the new, compact version, the control system is located in the base and the arm is operated without the need for a switch cabinet and PC.
The new robolink solution is a complete 4 or 5-axis robot in which a control unit from Commonplace Robotics GmbH (CPR) is integrated at the base of the robot arm. The robolink is moved via four or five motor controllers. This saves space and makes the robot arm even more flexible during transport or for a quick adaptation of the automation process.
The modular CPR control system complements robolink with service-friendly electronics and intuitive control software that can be used to display and program the robot's movement sequences. For example, programs can be created using Joint, Linear, DigitalOut, Loop, or If-Then-Else commands. Further components, such as image processing systems, can be integrated via plugins. The software is supplied on CD, so that only a Windows-capable computer is required for commissioning.
The standalone solution dispenses with the otherwise obligatory PC connection after installation and can be operated with a touch display. The control system can also communicate with other controllers via inputs and outputs.
Simple processes can be automated cost-effectively with the robolink modular system. These include pick & place applications in order picking, feeding, quality assurance, assembly tasks or image processing applications. In addition to a preassembled articulated arm made of joints with a wide range of gears, motors and connector modules, users can also put together individual systems. In addition, compatible grippers and lifting vacuums are available, for example from Schunk or MM Engineering.
Configuration of the modular robot arm is simple via the robolink Designer online tool: www.igus.co.uk/robolink-designer  The tool also provides a visual simulation of the arm's movements and, upon completion, the order can be placed for dispatch.
For more information about the robolink articulated robot arm, please visit: www.igus.co.uk/robolink or call igus directly on 01604 677240.