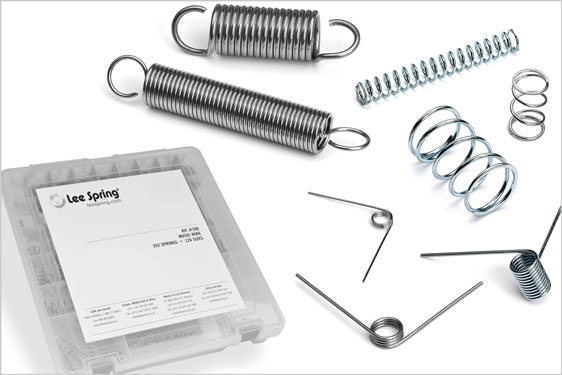 Rapid response is paramount in all industries, so when an engineer or technician reaches for an item and finds a gap on the rack, that's when frustration and delays kick in. With that in mind Lee Spring have developed spring kits which meet a comprehensive range of needs for design, prototyping and development purposes.
The kits provide a selection of different sizes and are available for standard compression, extension and torsion springs, as well as instrument springs. They are housed in a heavy duty selection case, coded so that each type of spring can be quickly identified by using a reference chart inside the lid, or by colour coding where appropriate.
The kits have been assembled using data reflecting normal demand for items in the extensive Lee Spring catalogue, so that in the case of torsion springs, for example, the kit provides a collection of left and right hand wound torsion springs offering a range of torque values, and with leg positions at 90, 180, 270 and 360 degrees, with similar deflections.
A comprehensive selection of compression springs is available in plated music wire or passivated stainless steel, likewise each extension kit comes in a robust case with each compartment containing three pairs of extension springs. 216 instrument springs in 108 different sizes are available at the flip of a lid with each pair of compression, extension and torsion springs in easily identifiable compartments. Instrument springs are available in music wire only. This carefully selected combination is reflected throughout the options within each kit category.
Lee Spring offer an ex-stock same-day despatch service on over 25,000 standard springs as well as a custom design and production service for all types of spring so that when a good fit has been found in a kit then the design can be fine-tuned for production.