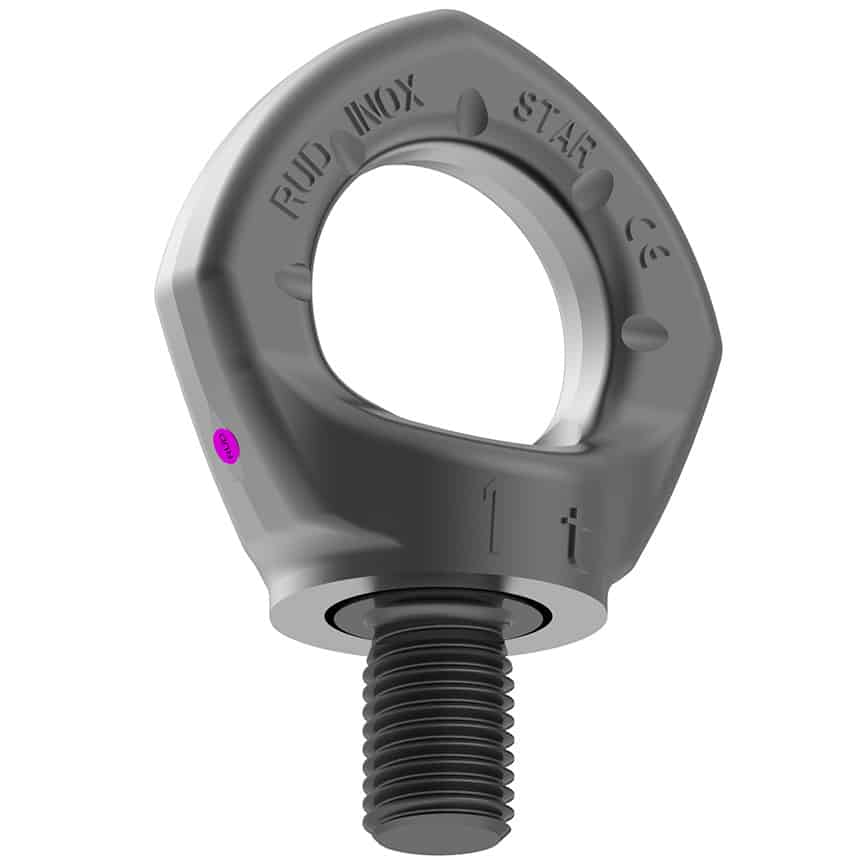 Rud Chains offers over 500 different tested and certified lifting and lashing points, which cover a working load capacity range of 0.6 to 250 tonnes. Rud's lifting equipment is used across a wide range of working environments from heavy lifting, engineering, materials handling, offshore, construction, rail, MoD and many more.
The INOX-STAR stainless steel eyebolt is made from a pentagonal shape and the body and the bolt is made out of duplex steel 1.4462, which offers a high resistance in sea water and across working environments with a high concentration of chloring ions. It also offers an impressive full working load limit in all load directions.
The innovative lifting point has the ability to rotate 360° offering an easy adjustment in the load direction. It offers a safety factor of 4:1 and is operational from -40° to 280°. Clear marking of the minimum working load limit for all loading directions is marked on the lifting point.
The INOX-STAR comes with a non-removable special bolt that reduces the risk of non-standard bolts being used. The bolt head possesses clear markings of the thread size, batch number and class of strength.
The INOX-STAR is quick and easy to install with just one bolt connection. For permanent installation and recurring lifts a special socket wrench can be supplied to apply the requested torque. It is typically used across offshore, oil, engineering, construction, shipbuilding and  chemical industries, to name a few.