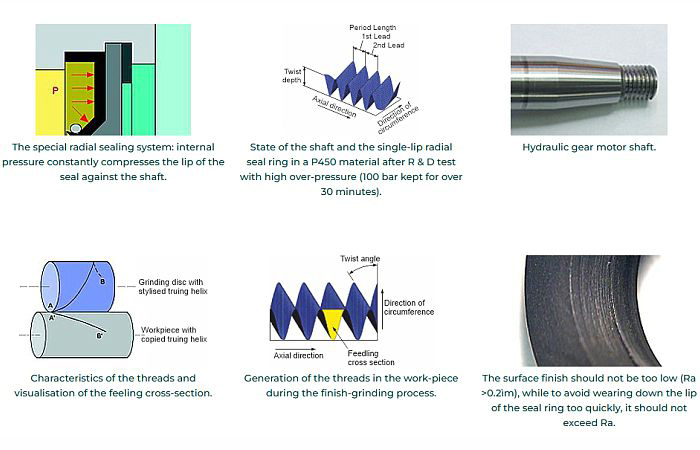 Marzocchi Pompe produce a system of radial sealing at the shaft that can bear enormous internal over-pressures without resulting in damage. This radial sealing is particularly useful in single direction hydraulic gear motors when, in certain conditions of use, high over-pressures will be generated at the motor output. With bi-directional motors, the area adjacent to the seal ring of the drive-shaft is maintained at atmospheric pressure by the drainage circuit. In single-direction motors, this area is directly connected to the output so any over-pressure impacts directly on the seal ring, causing the lip to turn over or the ring to be expelled from its seat with a consequent leakage of fluid.
Marzocchi Pompe's solution is made up of a single-lip radial seal ring in a Teflon™ composite material and reinforcement ring, both of which are the result of a special design and construction process.
The external reinforcement ring fully follows the form of the seal ring, and has been sized to bear the axial force generated by internal over-pressures.
Before performing laboratory tests, it was necessary to strengthen the entire system that fastens the ring onto the flange, so that it could bear all the stresses submitted to the ring.
The best characteristics with respect to the components were determined with FEA software. The new radial seal ring has a much stiffer structure than normal rings, making it necessary to employ special assembly procedures.
The Teflon™ (P450) material adapts evenly to the texture of the machining on the shaft to guarantee a perfect seal.
Because of the internal pressure, the lip of the seal ring is constantly compressed against the shaft. The increase in pressure is accompanied by an increase in friction, with heat being generated in the sliding zone as a result.
The properties of the P450 material make it possible to bear high-pressure loads, strong friction and temperatures between -30 and +200ºC. To guarantee a long operating life, it was necessary to perform in-depth research on the methods for grinding the area where the sliding of the seal ring's lip takes place.
For further information: https://www.jbj.co.uk/marzocchi-teflon-seal.html