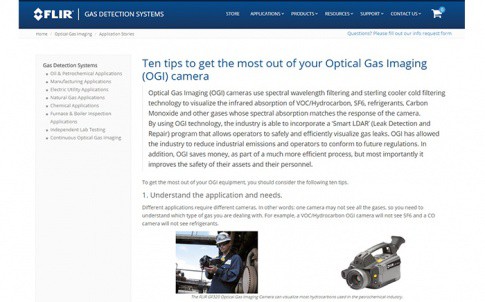 FLIR Systems has published a new guidebook that provides informative tips to enable engineers and scientists to get the most out of their Optical Gas Imaging (OGI) camera. OGI cameras use spectral wavelength filtering and Stirling cooler cold-filtering technology to visualize the infrared absorption of gases such as methane, sulfur hexafluoride, carbon monoxide, carbon dioxide, and Freon refrigerants. FLIR Systems produces a range of optimized OGI cameras, each with a filter that matches the spectral absorption of the gas it is designed to visualize.
Through OGI technology, the industries including petrochemicals, chemicals and power generation can incorporate a safer, more efficient 'Smart LDAR' (Leak Detection and Repair) program. Inspectors can detect fugitive emissions and leaks faster and pinpoint the source immediately, leading to prompt repairs, reduced industrial emissions, and greater conformity to regulations. In addition, OGI saves money, not only through efficiency but more importantly by improving the safety of company personnel and assets.
The new guide provides tips on understanding the application, environmental considerations, qualitative and quantitative measurements, safe operation, measuring temperature correctly, working with ATEX permits, industrial emissions regulations, available training and return-on-investment.
To download a copy of 'Top 10 tips for getting the most out of an Optical Gas Imaging camera' please visit http://www.flir.co.uk/ogi/display/?id=62550 or contact FLIR Systems in Europe on +32-3665-5100 or gasimaging@flir.com.