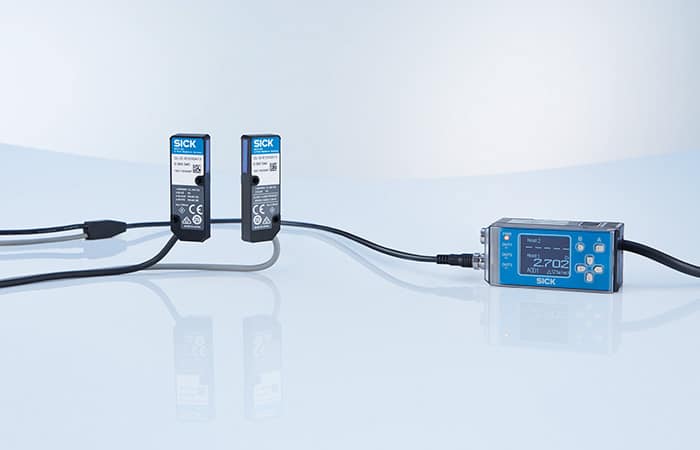 The SICK OL1 Optical Micrometer is a highly-accurate, miniature and rugged addition to SICK's portfolio of displacement technologies for thread, material thickness and edge measurements in continuous, sheet feeding and winding machines.
The SICK OL1 Optical Micrometer is a rugged instrument for integration into small spaces. With a miniature sender and receiver placed up to 300mm apart, it uses light curtain measurement technology, based on a multipixel, linear CMOS sensor, for high-precision, high-repeatability measurement and process control in the micrometer range. The OL1 is teamed with the SICK AOD1 Mini displacement evaluation unit for improved stability and consistency of output.
With a 10mm light band and detection resolution down to 0.2mm, the OL1 Optical Micrometer is a versatile and stable performer at short ranges, small tolerances and for handling thin materials, so it can support precision applications, for example in paper, printing and packaging machines, electronics and solar manufacture and wire and metal forming industries.
"SICK was able to apply its world-leading expertise in light curtain technology to develop a technology with micrometer accuracy that delivers high accuracy and efficiency in 1D and 2D profiling and displacement measurement within very limited space," says Neil Sandhu, SICK's UK Product Manager for Imaging, Measurement and Ranging.
"Whether designing new machines, or upgrading existing applications, the OL 1 Optical Micrometer provides a highly-reliable and accurate option for web or thread width measurement, double layers, hole diameters or edge positioning and guidance.  It is therefore particularly useful in industries such as paper making, printing and packaging industries, metal forming and wire manufacture, and the electronics and solar industries.   Whether it's tiny objects, tubes, threads, wires, transparent or reflective web materials, the OL1 delivers the reliability and fine tolerances required for high tech performance."
The SICK OL1 Optical Micrometer is a sender and receiver in twin miniature (61 X 21 X 10mm) rugged metal housings.  The SICK OL1 sender emits a Class 1 laser 10mm-wide parallel light curtain, which is captured by the receiver on a high-resolution CMOS chip, with any object in between registering as a precisely-measured shadow. The SICK OL1 is an analogue measurement device and is combined with SICK's AOD1 evaluation unit for integration with the machine controller.
Alignment is simple with the integrated LED alignment aid at the sensor head. Commissioning and integration with machine controls is quick and easy, via the display configuration with individualised configuration and calculation through the AOD1 evaluation unit. The AOD1 displacement evaluation unit functionality enables simple interfacing with machine and SCADA factory control systems.
For more information on the SICK OL1 Optical Micrometer, please contact Andrea Hornby on 01727 831121 or email andrea.hornby@sick.co.uk.