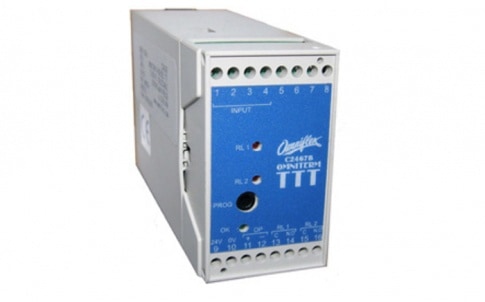 Looking for a single off-the-shelf device incorporating many features such as Universal Input, 16-point linearisation, two "rate of change" or alarm trips, with re-transmit output in mA, V or pulse? The Omniterm TTT is the answer!
OVERVIEW
The Omniterm TTT is a universal input signal transmitter and dual trip amplifier and retransmit output, combining all the features of the Omniterm TXB Transmitter and TTP dual Trip Amplifier in a single product.
Use the TTT where you need both an analogue monitor as well as two alarm/trip setpoints with adjustable"rate of change" alarms from a single input as well as a retransmit output.
The TTT directly accepts thermocouple. resistance bulb, millivolts, volts or millamps (user configurable).
This instrument uses easy software configurability without the need for any calibration to set any input and output signal type and range. Setpoints are set directly in engineering units using the same software configuration tool.
BENEFITS
Reduce stock holding by only needing to hold one type in stock.

No field calibration means lowest ranging, installation and commissioning costs.

Software configuration means range settingcan be done in minutes, and configuration can be stored for effective asset management.