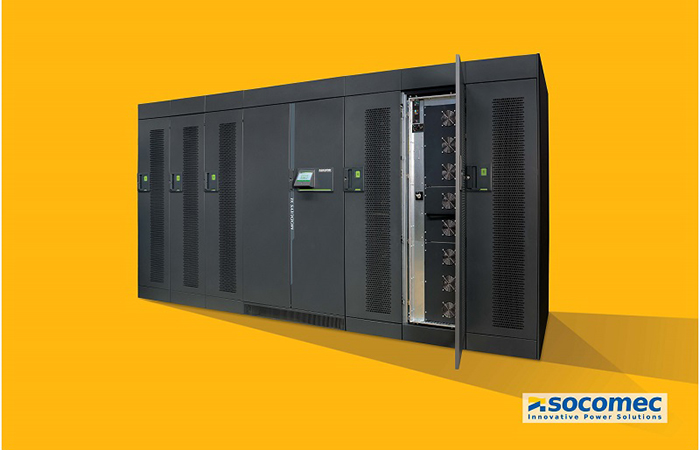 Socomec is driving a stream of innovation with a new and truly modular UPS
that puts the user at the centre of its design.
There is an irony in the field of modular UPS in that many solutions have not, to date, always delivered in terms of modularity.  Limitations associated with high power systems can include internal failure over multiple modules, a lack of control with no single point of failure, scalability and maintenance features that under-deliver, and limited future compatibility.
First generation infrastructure designs are falling short of current needs and are not flexible enough to meet future demands as they evolve – both in terms of the increasing digitalisation of industry and the rapid expansion of the Data Centre market.
When selecting a high power UPS, the total cost of ownership, ease of maintenance and integration as well as reliability and performance are all key considerations.  Hot scalability, faster, safe, concurrent maintenance and error-free installations are on every Data Centre Manager's wish list – all without compromising the reliability of a UPS system loaded with additional modules.
Global power management expert, Socomec, is driving a stream of innovation based on market surveys and customer forums – putting the customer and operator at the centre of each and every design and usage choice with the aim of overcoming these historic limitations.
With the customer at the heart of every development decision, the result is a new modular UPS solution that makes the latest advances in technology more accessible – and easier to deploy – than ever before – whilst also guaranteeing the performance of the new electrical ecosystem.
What does modular mean?
By introducing genuine modularity to system architecture, it is now possible to address the most urgent and important issues facing today's Data Centre operator. But not all modular systems are created equal: many UPS available today claim to be "modular" if they comprise multiple power bricks.
There may be different ratings and numbers of bricks within a single module – and many different connection configurations – but the solutions described as "plug-in" and their associated operating conditions can be somewhat vague.  It might be necessary to switch on the bypass in order to maintain or replace modules, for example, and such replacements might only be possible by accessing the system from the side.
It's now possible to enjoy adjustable power and redundancy with a flexible degree of scalability – customisation without the need to modify standard bricks.
Socomec's Modulys XL has been developed to deliver the highest quality power - via the latest technologies - that is simple to deploy, whether for greenfield or priority upgrade projects.  The flexibility of this next generation modular architecture enables users to adapt – rapidly – to ever changing requirements.  The hardware and firmware have been designed to provide a lasting solution with guaranteed future compatibility - across the entire system.
What modular design features really matter?
Providing the right kind of scalability is essential when it comes to managing short-term capacity demands – without risking system integrity.
In today's market, end users are demanding solutions to a range of key issues when specifying UPS systems. How can I perform predictive maintenance? How can the overall cost of ownership be reduced?  How can I improve resilience?
Socomec's Phil Dunn explains: "By moving to modular UPS, you remove any single point of failure and also reduce fault propagation.  If you have an issue on one board, it cannot transfer throughout the rest of the system and cause a bigger problem. Modular technology means that you can isolate an issue."
He adds that the technology also reduces risk, as any part of the system can be removed, while the UPS remains live. "In this day and age, you do not want a technician putting their hands into a UPS. Anything that you can do to reduce the intervention time is a benefit to the end user."
Furthermore, because monolithic systems are labour intensive and costly to maintain, modular systems offer an advantage from an OPEX perspective.
User-focused design
At a recent customer forum, the ability to independently test a module, was found to be a significant attraction for end users.
Dunn comments: "If you have to carry out a repair on the system, you can remove the unit, with 360 degree access to all the parts within the power module; everything is replaceable on a cartridge, and once the work is completed, the system can be independently tested away from the critical infrastructure. This gives 100% confidence that the system is going to be secure.  When we have demonstrated the product to our customers, we actually get a "WOW" reaction – and that's the biggest compliment and the best reward."
No single point of failure + concurrent maintenance
The Modulys XL has been designed to remove any single point of failure and reduce MTTR, whilst maximising uptime.  To ensure the best possible overall reliability, all assets are combined together through a super-standardised inter-connection system, providing high reliability and robustness at the entire modular UPS level.  The assets all have their own independent control DSP to avoid any single point of failure - modules are essentially communicating together like a traditional parallel monolithic would do.
Furthermore, in-situ maintenance, servicing and repairs are critical when it comes to the protection of highly critical loads. Concurrent maintenance means that you can maintain all components while the rest of the UPS system supports the load in online mode.
Colin Dean, Managing Director, Socomec, comments; "By fully isolating a power module, the Modulys XL protects the load in online mode – during operation, maintenance and upgrade. It's completely foolproof – no engineering skills required. The process is simple; plug a new module into a prewired bay and wait for it to self-configure automatically while the rest of the system protects the load – working in inverter mode.  The latest technology is now easier to master than ever before."
By proposing the right granularity (200kW) for large UPS systems – whilst retaining the expected features required of a Modular UPS – each power module has been designed to ensure very high reliability (1,000,000h MTBF).
 UPS Modularity – but not as you know it
The flexibility of a tailored solution combined with the advantages of standardised assets, means that the system can be fine-tuned to the precise requirements of a specific electrical infrastructure.
Pre-engineered connections and agile assets make connection errors a thing of the past – Modulys XL has been designed for easy alignment, in 5 minutes by 1 person.  200kw pluggable power modules make hot-scaling or module removal fast and easy.  There is no need for any specific hardware or tools and – uniquely – there is no cabling required.
Colin Dean comments: "This is no ordinary modular UPS system – there is nothing like it on the market today.We have created a completely new breed of modularity that delivers tangible value to our customers.  We know that achieving the right granularity requires balance between MTBF and intrinsic redundancy – with no losses in available power due to missing modules, or inflated maintenance costs when the power is oversized. Rightsizing through modularity in design enables the power protection capacity to be added - when it's needed - to meet actual or existing demand, instead of total upfront deployment.  This approach means that capacity wasted is minimised in the case of variance between projected future loads and actual future loads. Furthermore, whilst redundancy provides an attractive MTBF, the rapid repair times associated with the very latest modular configurations can reduce MTTR significantly."
To see the impact of Ultimate Modular UPS featuring the new Modulys XL, and how you could reduce your system overload, sit back and enjoy Socomec – the movie http://bit.ly/2Wapa1J
View it live @ Stand D222 Data Centre World
Email info.uk@socomec.com01285 86 33 00 www.socomec.co.uk Linkedin Socomec Group Twitter socomec_uk