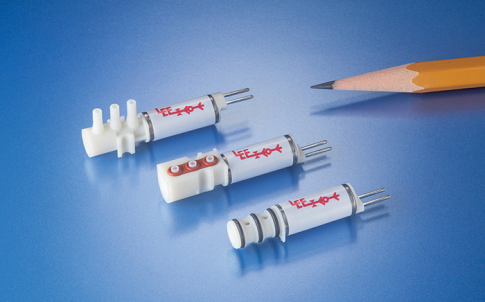 The established, field-proven range of HDi (High-Density Interface) solenoid valves available from LEE PRODUCTS has recently been expanded following the introduction of a new Lo-Lohm Latching 3-Port HDI Solenoid Valve. By combining the high flow capabilities of the Lo-Lohm HDI with the power efficiency of the Latching HDI, the new 3-Port Lo-Lohm design excels in applications where high flow capacity, low power consumption and small size, are critical. Lo-Lohm means higher flow, as the Lohm is a measure of resistance to flow.
Today's instrument design teams face constant challenges to further miniaturise their systems into portable devices for broader, more convenient access to end users. However, the challenge when targeting smaller instrument size is that there is very limited scope to sacrifice performance at the system level. Each integrated component within the portable system must offer efficient performance at low power levels and the features of the new Lo-Lohm HDI solenoid valve make an important contribution to meeting these 'miniaturisation' challenges'.
For example, the higher flow rates and smaller size of the Lo-Lohm Latching style (as low as 550 Lohms, 14.6 LPM at 15 psid) allows instruments designers to utilise a miniature valve to achieve demanding flow rates, without sacrificing size. These ultra-compact valves weigh just 4.5 grams and measure 50mm in overall length and 7.6mm in diameter.
Depending on the application, this can result in improved efficiencies in sample processing throughput and quicker venting, both of which also ultimately mean power conservation at the system level. These valves require only a momentary voltage pulse to activate (10 ms minimum) after which they retain their flow state until a follow-on voltage pulse (with reverse polarity) is applied to switch its flow direction. Apart from the initial minimal power consumption, no power is consumed while the valve maintains each flow status.
This low energy consumption (as low as 28 mJ/ switch) is particularly important for battery operated and miniaturised systems.
Other features include; low internal volumes of 40µL for the plug-in version, 72µL for the face-mount and 77µL for the ported version and they will provide a reliable and long cycle life of a minimum of 10 million cycles. Wetted materials are PBT for the housing, FeCr alloy for the armature/plunger stop, 316 SS for the spring and silicone for the seal.
The low power, high flow rates and low heat generating features of these valves make them particularly suited to applications such as battery-powered pneumatic instruments, portable respiratory therapy devices, molecular diagnostics instruments and environmental gas samplers.