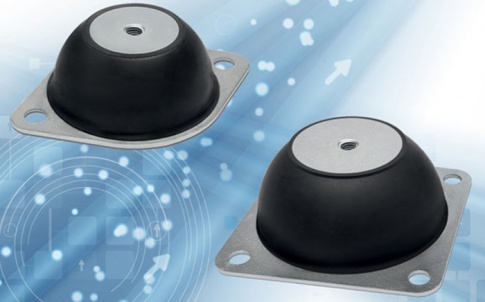 Vibration damping elements in rubber bonded with steel/stainless steel, such as the Elesa DVE series are much used for applications with rotary machines. They are suited to equipment that does not present big dynamic imbalances, but where a degree of elasticity is required both vertically and transversely.
DVE rubber damping mounts are therefore very suitable for use with compressors, fans, vibrating feeders, rotary pumps or electric motors where vibration can cause malfunctioning and reduction of the machine lifespan and/or that of the adjacent equipment. They are important in the reduction of noise and of potential damage to the health of nearby personnel.
The Elesa DVE series features a tapped circular boss with oval or square mounting plate in zinc plated steel, AISI 304 or 316 stainless. Standard specification is black natural rubber to Shore 40 and 60 for loads of from 62.5 N up to 20812 N.
Further information DVE vibration damping elements from Elesa may be found here