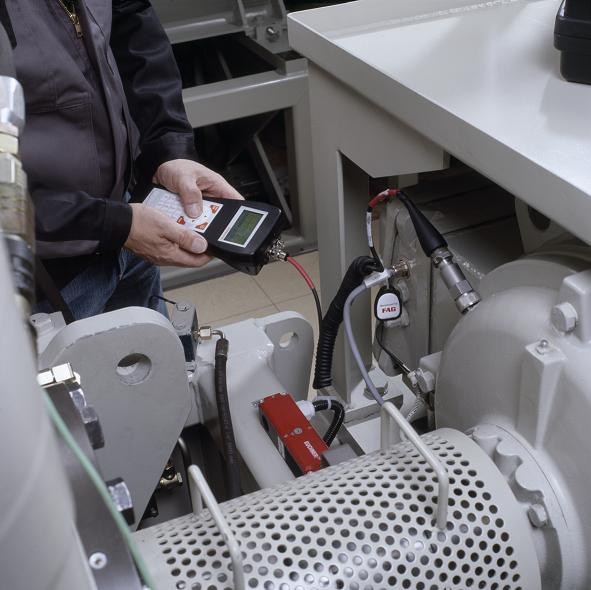 As part of its annual service contract, Schaeffler has been providing regular (typically every two months) on-site vibration monitoring and analysis services to Tarmac Buxton Lime & Cement at Tunstead Quarry near Buxton, Derbyshire.
The combined operation at Tunstead is one of the largest in the UK, extracting between 5 and 6 million tonnes of limestone per year over recent years. The site also produces aggregates for the construction industry. The cement plant at Tunstead, which was built in 2004, has a capacity of one million tonnes, which is shipped all over the UK by tanker, rail or in packed bags.
During each visit, a Schaeffler field service engineer takes vibration measurements to identify any deterioration of rolling bearings and other general mechanical components (e.g. gears, fan blades) on a variety of critical plant and equipment at the cement works. This equipment includes motors, hydraulic pumps, dust fans, screw conveyors, belt drives, blowers and gearboxes. This equipment drives a variety of critical plant at Tunstead such as the raw mill, cement mill, rotary kiln, cooling systems, coal grinding, and plant feed conveyors.
Vibration measurements are made and stored using Schaeffler's FAG Detector III handheld vibration monitoring device. With its built-in software, 'Trendline', which includes a database of more than 20,000 different bearing products from different suppliers, this device enables the user to collect, store and analyse vibration measurement data. Used in combination with the data viewer, the bearing database is ideal for assessing a machine's condition. For example, up to four different measurement values can be stored and displayed against one measurement point (several defect bearing frequencies can be checked efficiently using a single measurement point).
The FAG Detector III is used to measure and record vibration data at each selected measurement position on the patrol monitoring route at Tunstead. The three basic measuring parameters are velocity (a measure of overall machine vibration that responds to mechanical issues such as imbalance, misalignment and looseness), acceleration (typically used to monitor gear defects and progressing bearing defects) and enveloped acceleration (a measure of high frequency, impact-type events, typified by early bearing or gear faults).
The measurement data is then analysed by the Schaeffler field service engineer, who then writes an analysis report and recommended action list (if this is required) for the maintenance team at Tunstead. The report typically includes Acceleration and/or Velocity Trend plots that show alarm limits (red and yellow lines) and how the vibration data has varied over time.
David Goves, Applications Engineer at Schaeffler UK comments: "On my most recent visit, I collected vibration data over four days from 128 items of equipment at Tunstead. Typically, one item of equipment may include a motor driving a gearbox, pump or fan. For each item of equipment, we would typically record vibration data from the motor non-drive end and motor drive end, for horizontal, vertical and axial mounting positions, and the same for gearboxes. In total, I recorded 1487 separate measurements using the FAG Detector III. Of these measurements, 1089 were velocity, 38 were acceleration and 360 were acceleration envelopes."
After analysing the recorded vibration data using the FAG Detector III's Trendline software, Schaeffler was able to report on all the items of equipment and to recommend any repairs or remedial action that is required. If bearing wear is found to be the cause of high vibration levels on a gearbox, for example, this can be reported to the customer, who can then source the appropriate bearings and plan precisely when the maintenance work i.e. replacing the defect bearings can be carried out without disrupting the rest of the cement plant.
David Goves cites some examples: "From my last site visit, we analysed the data and compiled a report for the customer. This included a list of recommended actions on those items of equipment that had exceeded the pre-defined alarm limits in the Trendline software. For example, we advised the customer to check the grease levels on several items of equipment. Due to signs of early bearing wear or gear defects, other recommendations included replacing the bearings in a gearbox or motor. We also reported on other more general mechanical issues such as imbalance of fans and rotors, mechanical looseness of gearboxes, and misalignment of belt or pulley drives."
Schaeffler UK is continuing to provide vibration monitoring and analysis services on an ongoing basis to Tarmac Buxton Lime & Cement.