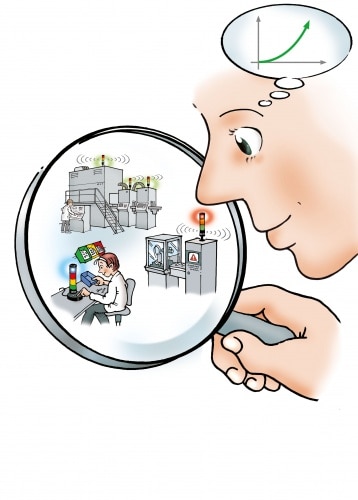 At Mach 2016 we will be showing our machine and workstation wireless monitoring equipment WIN. Very easy to install and run, the WIN system uses the signals from andon lights – signal towers – fitted to machines to record changes in status to the machines which then allows you to monitor the efficiency of the machines, identify disruptions to production and improve the transparency of your operation – all at a very affordable cost and very easy to install and even retrofit to existing equipment.
The system can also be used as a simple call for action system by the member fof staff pressing a call button for say "inspection" or "stores" who are wirelessly called to assist without the need for people leaving their workstation. Response time and frequency of call outs are easy to monitor and evaluate.
The system can be quickly and easily added to existing WERMA beacons or tower systems, and is also easy to install alongside competitor's beacons. Installation couldn't be simpler with of course virtually no hard wiring required.
Visitors will also be able to see the very latest in compact signal towers, and cost saving traffic light systems using multicolour LED technology. This includes modular signal tower products, both 70mm size and the new compact sized KS40 products incorporating for the first time combined permanent and blinking lights in just one unit.
A new traffic light LED beacon 890 combines three colours in just one easy to install beacon, reducing cost and inventory.
Come and see us in Hall 5 stand 5947.