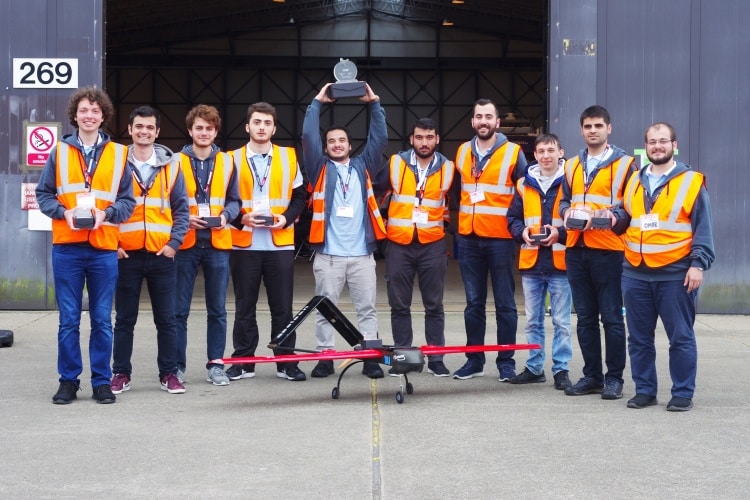 Organised by IMechE, the student competition is now in its fourth year, attracting more than the double the number of teams than it did when it debuted. The 2018 event saw teams from Pakistan and Sri Lanka take part alongside UK universities, as well as the eventual winners from Turkey. Students were tasked with designing and building a drone for a humanitarian aid mission. With Team Hedef coming in first, Southampton University's Team Athena was named the runner-up, and third place was awarded to Team Hawk from the Huddersfield University.
"When the Istanbul team arrived at the competition they moved like a well-oiled machine and delivered, despite the challenging weather conditions," said Alistair Cowin, chief judge of the UAS (Unmanned Aircraft Systems) Challenge.
"They also won the Safety and Airworthiness Prize for which they displayed good organisation skills and a very positive air safety culture. A really professional outfit flying a really capable UAS."
According to the organisers, this year's event featured a number of innovations, including hybrid drones from Swansea University and Team Horus at Southampton University.  In pursuit of more efficient flight, both teams combined a helicopter's vertical lift before converting into plane-mode.
Elsewhere, Team Nova from University College London designed a micro-jet engine for their drone, the first time a jet engine had been seen in the competition. Last year's winners, Team Bath Drones, received the Innovation Award.
https://www.theengineer.co.uk/bath-drone-imeche-crown/
"The enthusiasm, innovation, teamwork and focus on safe operation by all participants was truly outstanding" said John Whalley, CEO of the Aerospace Wales Forum, who presented the awards.
The full list of winners can be seen below.
Award Winners
Grand Champion –  Team Hedef, Istanbul Technical University, Turkey

 Runner-Up – Team Athena, University of Southampton

 3rd Place –Team Hawk, University of Huddersfield

 Innovation Award – Team Bath Drones, University of Bath

 Design Award– Team Horus, University of Southampton

 Scrutineers Award– Project Bentham, UCL

 Safety & Airworthiness – Team Hedef, Istanbul Technical University,   Turkey

 Best Business Proposition – Project Bentham, UCL

 Most Promise – Team Nova, UCL

 Highest Place New Entrant – National University of Sciences and  Technology, Pakistan

 Media Engagement Prize - National University of Sciences and Technology, Pakistan