Throughout the supply chain, there's a growing appetite for 5-axis machining.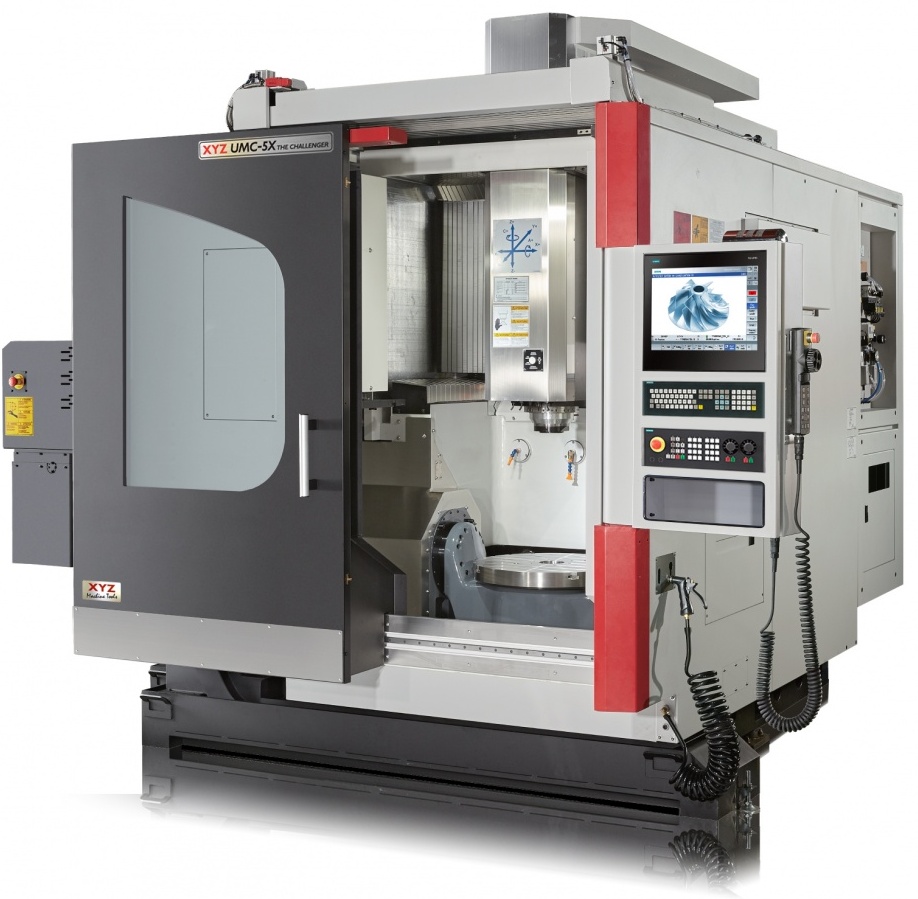 Increasingly, successful companies at every stage in the manufacturing supply chain for machined parts recognise the need for equipment that can deliver technically complex solutions. In this context, 5-axis machining capability is becoming ever more attractive to SMEs. With the aim of allowing more of them to enter the growing 5-axis market, XYZ Machine Tools has now added a full simultaneous 5-axis, gantry-style, machine with a trunnion table machining centre to its range – The UMC-5X 'Challenger'.
The XYZ UMC-5X is based on a compact, gantry-style, trunnion design that maximises the front-loading working area while maintaining a relatively small footprint. Its construction employs solid meehanite castings to create a rigid platform that allows high-speed, precise machining of complex shapes and forms across a wide variety of materials. A key feature is that when the table is tilted 90˚ towards the rear (i.e. component facing forward), there remains 500mm of Y axis travel forward of the table surface. This is said to be greater than other machines that quote the same axis travels, and allows larger workpieces to be machined. Although new to the XYZ range, it is a well-established design with more than 200 machines installed in Russia, Germany, Spain, France and Italy, and over 30 toolroom installations in Portugal alone.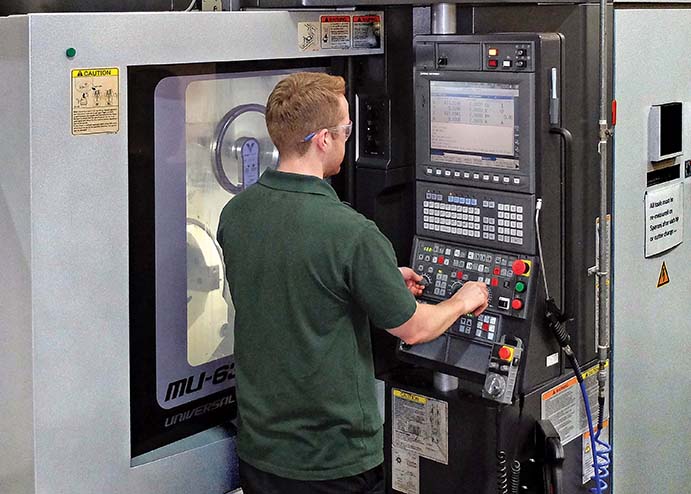 XYZ offers the machine with the Siemens 840DSL control as standard or Heidenhain iTNC640 HSCI; both have Traori/Kinematic options and fast block processing capabilities, and integrate Smart Machining Technology (SMT) – the key elements of which are Tool-Tip Positioning Control (TTPC), Spindle Vibration Supervision (SVS), Metal Removal Rate Optimisation (MMRO) and Axial Accuracy Control (AAC).
"The machine is a perfect fit with our existing range; it combines excellent value for money with extremely high specifications, which we know will make it attractive to XYZ customers," said managing director Nigel Atherton. "We took our time in sourcing the UMC-5X in order to be confident that we had the right solution to 5-axis machining to meet the needs of a wide variety of customers."
Falling into the centre ground is Durham-based Altec Engineering. Founded in 1978, it now turns over £15.5m and employs nearly 200 people. "Over the last few years the business has really transformed and diversified into a number of different markets, yet we've tried to stay true to the company's original ethos of high-quality production engineering," said Paul Lackenby, group business development director.
The company's machine shop manufactures ultra-high precision, low-volume prototype components for the aerospace, defence, oil and gas, and nuclear industries. In the early years the focus was on entry-level machines, added Lackenby. "However, as the business grew, customers were exploring our ability to handle more demanding projects, chiefly in the defence, and oil and gas markets, which exposed the limitations of those machines – particularly the physical torque and the lack of software functionality.
"One of the biggest limitations we found with our original machines was the need to purchase third-party control systems; we felt we would be better off choosing a supplier that had both the machining and design capabilities in one." Altec's first foray into 5-axis territory strategy was a Mazak VTC 800 30/SR, purchased for a defence contract. It was enhanced with added high-pressure coolant, extended tool magazine, and remote wireless probing. The project entailed manufacturing high-accuracy and high-tolerance transmission equipment for the Challenger II battle tank. "That was one of the hardest jobs I've ever production engineered and without the VTC we wouldn't have had the capability to do the work, and ultimately wouldn't have won the contract," said Lackenby.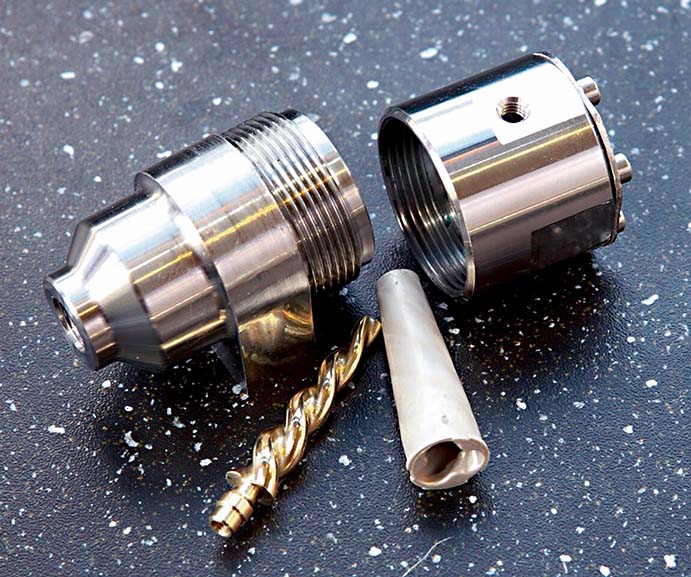 The addition of 5-axis machining reinforced the company's credentials as precision machining specialists, and sparked further investment. "The VTC was running flat out 24/7, we were in danger of turning down work for other customers, and therefore decided to invest in another Mazak 5-axis machining centre: a Variaxis i-700 twin pallet multi-tasking machine tool, complete with the new Mazatrol SmoothX control – which brought added benefits: "Its Intelligent Pocket Milling has resulted in much higher accuracy cuts at 90° angles, due to the machine's ability to decelerate the tool into the corner and speed up afterwards. There's much less pressure on the tool and the machine can work to tighter tolerances – which is absolutely crucial for the aerospace sector."
Olly Dmitriev, CEO of Edinburgh-based Vert Rotors UK, would no doubt concur with Lackenby's take on the advantages of 5-axis technology. The company produces compact, high-pressure and low-vibration gas compressors, designed for aerospace, medical and other applications where vibration and noise are not acceptable, and dimensions and weight are mission-critical. A new type of oil-free screw compressor developed by Vert Rotors has proved to be 35 per cent more energy efficient than dry oil-free machines. There is no stator in the design, which is common in rotary twin-shaft compressors and that  allows the gas being compressed to leak back; Vert's compressors have only a pair of male and female screws with virtually no clearance between them, prompting the need for high-accuracy 5-axis machining.
"Our rotary design is virtually vibration-free," said Dmitriev, "vital where the compressor is located next to delicate sensors." The company's latest products use small, high-accuracy rotors that need to be machined in 5-axis mode. "We chose the DMG Mori HSC 20 linear second generation," he added. "The machine has linear drives and scales unaffected by backlash, and the composite granite frame gives exceptional temperature stability making it possible to achieve 5µm accuracy and very high-quality surface finish of Ra 0.15µm." Other factors important in the choice of machine included the minimal headroom and floor preparation required for installation.
Meanwhile Bromford Industries, a specialist manufacturer of aero engine and landing gear components is currently investing £7m in nine 5-axis machines – Okuma MU-6300V mill-turn centres from UK agent NCMT – in its Birmingham factory. The Japanese-built, 5-axis, vertical-spindle machines are ideally suited to volume production of nickel alloy aero engine parts to tight tolerances. Seven of the machines are already producing components, with the remaining two due for delivery in the fourth quarter of 2017. They form the major share of a £10m investment at the Birmingham plant that includes tooling, automation, metrology equipment and CADCAM software.
Mike Tew, operations director at Bromford Industries, said: "The Okuma VMCs were selected due to their perceived quality, which has subsequently been demonstrated in production. Our aerospace supply programmes are long term and to fulfil them we need machine tools that maintain top levels of accuracy for extended periods, especially as they are running 24/7." Bromford plans to install an automated storage and retrieval system from Fastems, that
has already been designed by NCMT to link seven of the MU-6300Vs to form a flexible manufacturing system.
Investing in technology requires a combination of expertise, perspicacity… and perhaps an element of bravery. A move to 5-axis machining on critical parts is a common thread running through the stories of the numerous companies that tick all these boxes.