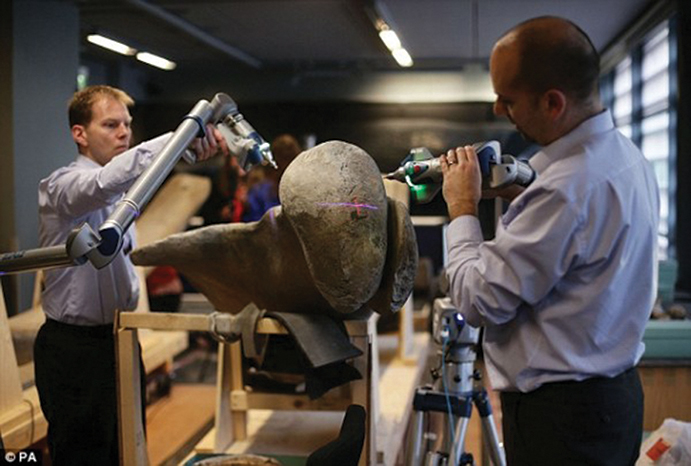 Some of the UK's best-known museum pieces are getting a new look and reaching wider audiences thanks to German-based metrology specialist Faro. In what is becoming an expanding niche sector for the business, the Natural History Museum has used the portable Faro Focus laser scanner system, used commercially for surveying applications, to make accurate measurements of its famous Diplodocus skeleton that has occupied its main entrance hall, now known as the Hinze Hall, since 1979.
The Diplodocus, affectionately known as Dippy, has been on display in the museum since 1905. Over 20m long and composed of 292 bones supported on a metal structure, the skeleton is a delicate plaster-of-Paris cast of real fossilised bones owned by the Carnegie Institute of Pittsburgh, Pennsylvania.
Prior to cleaning, dismantling and packing up Dippy for its tour, the museum decided to capture the surface detail of the skeleton while it was in its mounted position. The Faro equipment was suitable for this, as it allowed multiple scans of the many component parts to be taken from different angles. The measurement process took around two hours, and the digitised model thus obtained will be used by conservators to re-erect the skeleton cast on a tour around the country.
The dinosaur skeleton is currently being replaced in the Hinze Hall by a real skeleton of a blue whale, previously on display in the museum's mammals exhibit, but being re-posed in its new location as though it were diving from the ceiling.
Faro is also involved in this effort, with a ScanArm HD system being used to scan the bones during their move. This will give the museum a complete digital representation of
the whale bones in case anything unforeseen happens during the project, and will allow it to repair or reconstruct parts of the skeleton if it was ever damaged.
The first such project of its type at the museum, this is part of a much larger collaboration between the company and the institution.
The ScanArm HD system combines a fully positionable metrology arm with a handheld laser scanner, providing the option of both contact and non-contact measurement. Using a blue-line laser, the scanner captures 2,000 data points per scan line to digitise large volumes of data quickly.