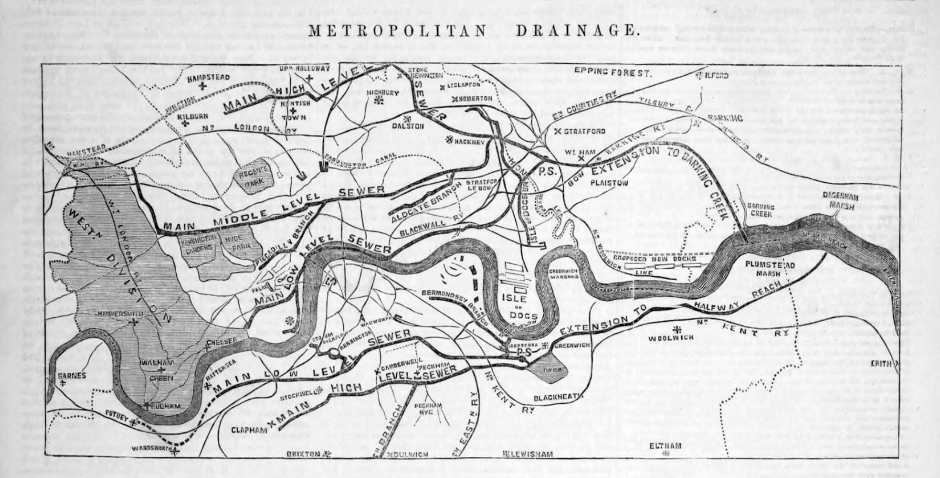 In the summer of 1858, the 'Great Stink' of London had become so overpowering that it drove members of Parliament from the chambers of the House of Commons. It's no surprise then that a bill was rushed through Parliament in 18 days to fund the construction of a new sewer system.
The Engineer reported on the results of the Royal Commission, which was appointed to investigate the best way of dealing with London's growing waste problem.
'To avoid the exposure of deposited matter and from the processes necessary for its manufacture into solid manure, the reservoirs are proposed to be detached lengths of large sewers,' the article said.
The design was an attempt to replace the open sewer system where waste was dumped in the Thames, resulting in cholera outbreaks and an overwhelming stench. It centred on detached embankments between Southwark and Vauxhall bridges that would act as reservoirs for waste.
The article continued: 'The sewage in these reservoirs should be always deodorised and they would have no external openings in the shape of gullies for the emission of foul air, nor would offensive smells be allowed to escape from them.'
The sewage was proposed to be pumped away through pipes connecting the reservoirs to the sea. The commission estimated the total cost of the improvements to be £3.3m, adding that they would also improve transport and reactional activities.
The Metropolitan Board of Works' chief engineer, Joseph Bazalgette, was responsible for designing and building the huge system of intercepting sewers, which is still in use today.