Jason Ford
News Editor
Later this month IMechE hosts UK Shale Gas 2016, a forum in which engineers can convene to understand the contribution they can make to burgeoning and often controversial energy source.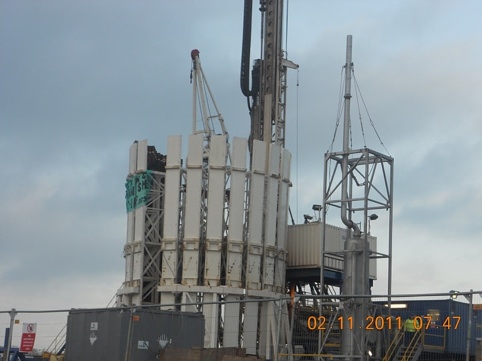 Just yesterday, for example, the Nottingham Post reported on how protesters had convened in the city to make their feelings heard on the subject, worried as they are about the potential for fracking to cause earthquakes and an increase in GHG emissions, plus the detrimental effects it could have on tourism, air quality, drinking water, and house prices.
Others fear that fracking will diminish regional democracy, with Friends of the Earth making public details of a letter it has seen suggesting that the shale industry is brought "within the Nationally Significant Infrastructure Planning (NSIP) regime for commercial scale projects."
In a statement, Friends of the Earth campaigner Tony Bosworth said: "Any move to take decision-making on fracking away from local councils and railroad it through would be another serious attack on democracy, and a sure sign that the government has lost the argument."
By way of an aside, the reasons for which will soon become apparent, Engineering UK today published its annual State of Engineering report, which comes with a warning that Britain needs to be producing 69,000 more engineers per year to meet industry demand.
Responding to the report, Peter Finegold, head of education and skills at IMechE said: "Without the development of these skills, the UK will be unable to complete the vital infrastructure projects in the transport and energy sectors the country so desperately needs."
And what could be more urgent than to ensure a safe, stable supply of energy whilst conforming to emissions standards and keeping the lights on? By IMechE's estimates alone, the closure of coal and nuclear plants in Britain will create electricity supply gap of up to 55 per cent by 2025.
Its one of a myriad of challenges facing us nationally, and it is engineers that will be tasked with providing the practical solutions.
Any young, technically minded person who is undecided on their career might want to consider if they are up to the challenge, taking into consideration how they can – for example - be part of ambitious plans to develop full-scale tidal lagoons in UK and abroad. News on that front came today from SIMEC whose owners – the Gupta family - have today committed an eight-figure investment in the development of tidal lagoon power plant in the UK and India.
The move is said to be part of SIMEC's strategy to create multi-billion pound renewable energy capacity worldwide and apply innovative technologies to provide low-cost power for energy-intensive industries, particularly steel.
If this nationally and globally relevant investment isn't interesting enough then perhaps consider a solution being offered to the fracking industry from US company Fairmont Brine Processing.
In May 2015 the company was a recipient of a $25,000 prize in recognition of their process to safely dispose of water used in the fracking process.
They and three other companies shared a total prize fund of $100,000 at the 4th Annual Shale Gas Innovation Contest, which acknowledged gains made in improving operational efficiencies while minimising environmental risk and impact of fracking.
As Fairmount explain in the accompanying video, the company's evaporation and crystallisation process "fully treats wastewater, extracting reusable by-products; and can formulate fracture stimulation fluids specifically to an operating company's completion design."
Its now up to the technically minded talent of tomorrow to decide what energy landscape they want to see, and to consider whether they are up to the challenge of building it.
IMechE's UK Shale Gas: The Engineers' Summit 2016 takes place on Feb 23, 2016.