of engineers. Helen Knight reports
Teaching children to understand a new concept or idea can take more than just a textbook or lecture, they need to use all of their senses.
Now, with the growth in the use of 3D printers in schools, this approach is increasingly being used as a way to enthuse young people about engineering, by offering them something they can see, touch and feel.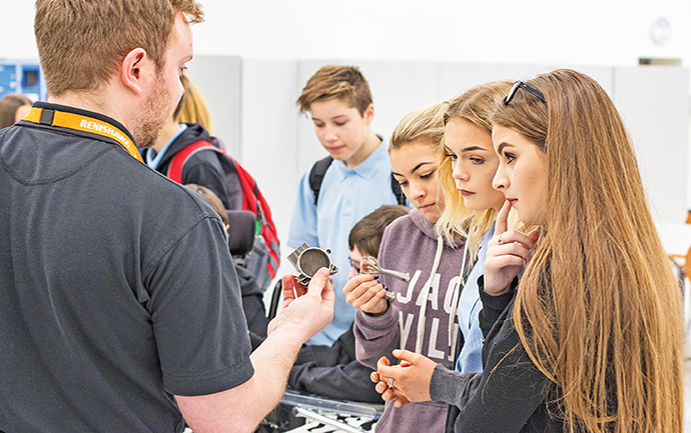 By allowing them to rapidly design, build and test their own objects, the technology can give young people an insight into engineering and technology that a picture in a textbook or words on a white board cannot.
As 3D printing has become more widespread, and more affordable, the technology is increasingly being used in secondary schools, and even some primary schools.
Schools can now buy an entry-level 3D printer for £500 to £1,000, while companies are offering free resources to help teachers to use the technology in their classrooms.
The Create Education Project, for example, which was originally set up by 3D-printing machine specialist Ultimaker (GB), but is now an independent organisation, has been set up to help schools integrate the technology into the curriculum by providing teachers with free resources, lesson plans and presentations. This includes a guide for including 3D printing in the primary-school curriculum.
The project runs a loan scheme, in which schools are offered the use of a 3D printer for a month or more. In return, all teachers are asked is to describe their experiences with the printer in a blog post, or to share a lesson plan they have created for their class, according to the project's Chris White.
"The best way to show schools what they can do is to give them real social proof and inspire them by showing what is possible," he said.
The organisation also runs events such as 3D-printing workshops to encourage young people into STEM, including a recent challenge for secondary school girls in Lancaster, designed to encourage them to consider careers in medicine and engineering. The girls were challenged to design and make a 3D-printed model of an animal cell for use in teaching.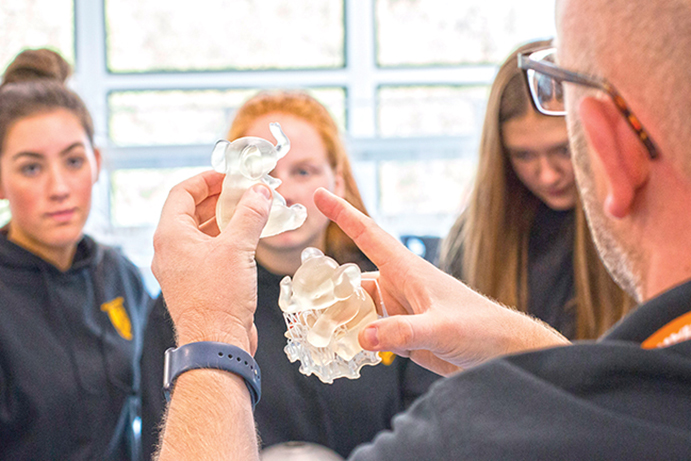 Similarly, Renishaw, the UK's only manufacturer of 3D-printing machines, regularly runs workshops for local schools at its Miskin site near Cardiff. These workshops teach pupils how to draw using computer-aided design (CAD) software, and allow them to print their own small object, such as a name badge or keyring.
The site houses five 3D printers that schools can use for their design and technology lessons. Pupils can also watch Renishaw's 3D printers producing healthcare products such as dental frameworks and facial implants. This helps them to relate what they have learnt to practical applications in industry, said Simon Biggs, education liaison officer at Renishaw.
"The Wales site is where we actually make the metal 3D printers, so schools can visit here to see the link between the classroom-based desktop plastic 3D printers and the metal printers we make here for industry," he said.
Using 3D printing allows pupils to go from an idea, to a design, to producing an object, quickly and easily. This helps them to learn about the process of design, said Biggs, who was himself previously a school teacher.
The best way to show schools what they can do is to give them real social proof and inspire them by showing what is possible
"The technology is able to bring ideas to life very quickly," he said. "In my time as a teacher I saw that some of the ideas they would design on paper would be too complicated to make in the traditional way, but using a 3D printer they could use their drawing and computer skills to design it, and the machine would create it for them very quickly."
Pupils can also spot mistakes more easily when studying and touching a physical object, which helps them to develop their problem-solving skills.
"If, when they go to use their object they find there is a problem, they can go back to their CAD drawings, change the design, 3D print it again, and quickly overcome it, whereas previously it would have taken them a lot longer to even find the problem," said Biggs.
The increasing use of 3D printing in schools, and its success in enthusing young people about design, technology and engineering, can be seen in some of the entrants to this year's Big Bang Competition. The competition, run by EngineeringUK, asks teams of secondary school pupils to come up with their own science or engineering project, with the winners announced at the Big Bang Fair at the Birmingham NEC on 16 March.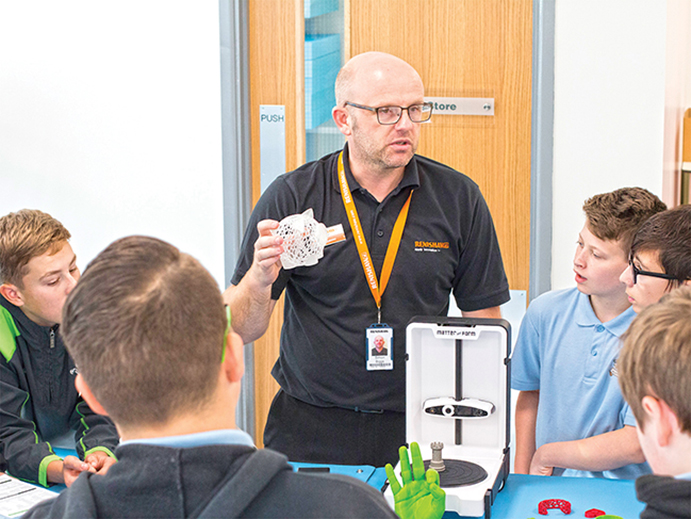 Entrants to this year's competition include a project by a pupil at Holmes Chapel Comprehensive School in Cheshire, in which he designed his own combination 3D printer and CNC mill, capable of printing plastics, milling metals and cutting circuit boards.
Similarly, a team at Robert Gordon's College in Aberdeen developed its own stereolithographic 3D printer, said EngineeringUK's chief executive Paul Jackson. "They found a design in a journal, developed it, optimised it and carried out a material analysis," he said.
Another team at Queen Elizabeth's School in London used 3D printing to build a safety helmet for the construction industry, which is equipped with a sound alerting unit to indicate local noise levels.
The use of 3D printing by teams entering the competition has grown significantly in recent years, according to Jackson.
"When we started the Big Bang competition in 2009, I can't think of any examples that we would have seen of that nature, and that is not a very long period for such a dramatic change," he said. "It's great to see young people taking advantage of these tools."
Indeed, in the space of just five years, 3D printing has gone from a technology that the Department of Education began piloting in 21 schools, to a mainstream teaching tool, said Jackson.
The technology can be a very effective means of inspiring young people in relation to engineering, particularly those who would not have previously considered it as a potential career, he said.