When McLaren Racing announced a four-year partnership with 3D printing specialist Stratasys earlier this year, it was a sign of motorsport's increasing reliance on rapid prototyping technologies.
Being able to rapidly model, build and evaluate new components is an invaluable capability in a fast-moving organisation such as a racing team.
In Formula One in particular, cars are adjusted between each race in a bid to squeeze even a fraction more speed out of the vehicles.
This means McLaren must produce prototypes and one-off components extremely quickly, said Andy Middleton, president for EMEA at Stratasys.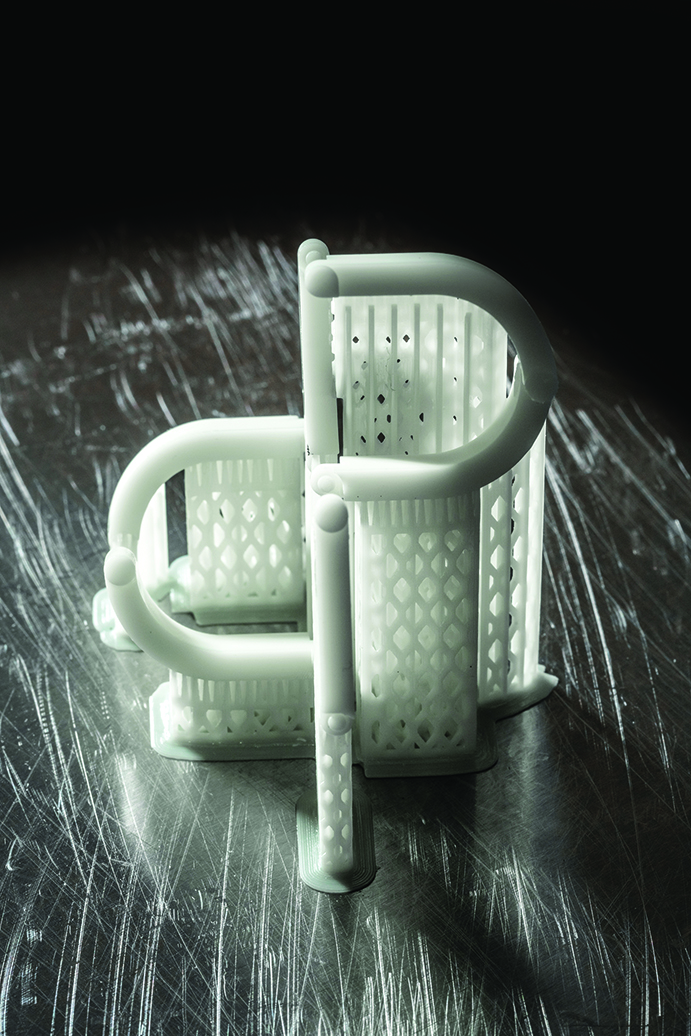 "A Formula One car is essentially a prototype," according to Middleton.
"There is a huge requirement for adjusting that car from race to race, so McLaren is pushing the boundaries of prototyping and looking to produce what are essentially one-off components in advanced materials such as carbon fibre."
But it is not just motorsport where companies are increasingly relying on rapid prototyping technology. Indeed, according to a forecast by analysts Research and Markets, the global market for rapid prototyping materials is expected to reach $903.8m (£724.8m) by 2021.
Stratasys itself has 32,000 3D printers installed throughout Europe, of which 80 per cent are used for rapid prototyping, according to Middleton.
Industrial awareness of the benefits of 3D printing for rapid prototyping has grown considerably in recent years, while the technology has also improved, he said.
"When I joined Stratasys we had one material for our PolyJet [inkjet printing] technology, which was grey in colour and had a thermal stability resistance of 32°C," he said. "That meant, basically, that if you put it on your windowsill on a sunny day the part would be larger in the afternoon than it was in the morning," he said.
Now, printed parts are able to withstand temperatures of around 120°C, added Middleton. "That means a huge step forward in accuracy, and a huge step forward in the potential to use a printed part for functional testing."
Different materials can now be mixed and printed on the fly. A single prototype can also be produced with different properties at various points in the part.
"If you think of a sports shoe, you could have a rubber flexible sole with a rigid upper, within one piece," said Middleton.
The colour and finish now achievable using 3D printing technologies have advanced considerably, according to Philip Hudson, managing director of software and solutions for additive manufacturing specialist Materialise.
The industrial design agency Layer recently won an Innovation by Design Award for its GO wheelchair prototype, the world's first 3D-printed wheelchair. GO was designed as a proof-of-concept by the company's research division, LayerLAB, in collaboration with Materialise. The designers wanted to develop a prototype that would look and function as much like the final product as possible.
So specialists at Materialise used the company's Mammoth Stereolithography machine to print the smooth but intricate structure needed for the wheelchair's seat. The chair's footplate was built in aluminium, using metal 3D printing.
"A really A-class surface is now possible with additive manufacturing, and that is a massive step forward," said Hudson. "So functional parts now become both functional and cosmetic."
Many of the recent advances in the final-finish quality of 3D-printed prototypes have come from developments in pre- and post-processing tools rather than the additive manufacturing machines themselves, said Hudson.
In the past, printed prototypes would have required time-consuming finishing steps, such as sanding, to achieve the desired appearance, he said. But the time taken can now be reduced, such as with the use of pre-processing software tools to better orient the part before printing.
"There are customers who come to us to rapid prototype a product, thinking that they will then move on to traditional methods of manufacture," said Hudson.
"But they end up staying with 3D printing to produce the final part because there is no reason to move on to anything else."
Some developers now use rapid prototyping as a way to demonstrate that 3D printing is a suitable process for manufacturing the final product, he added.
Digital services company Atos recently worked with Materialise to reinvent a titanium insert used in satellites and other aerospace applications, for example. The inserts, which are often used as mounting points to attach devices to satellites, are conventionally brick-shaped titanium or aluminium parts, built by machining.
However, by using metal 3D-printing technology the companies were able to design and build a titanium insert with an internal lattice structure. This reduced the mass of the part by two-thirds, from 1,454g to 500g, while also reducing its vulnerability to thermo-elastic stresses.
The use of 3D printing for rapid prototyping applications is also becoming more accessible as newcomers to the market offer simpler, lower-cost devices, said Mark Cocking, research development engineer and specialist in additive manufacturing at the Advanced Manufacturing Research Centre (AMRC) with Boeing at the University of Sheffield.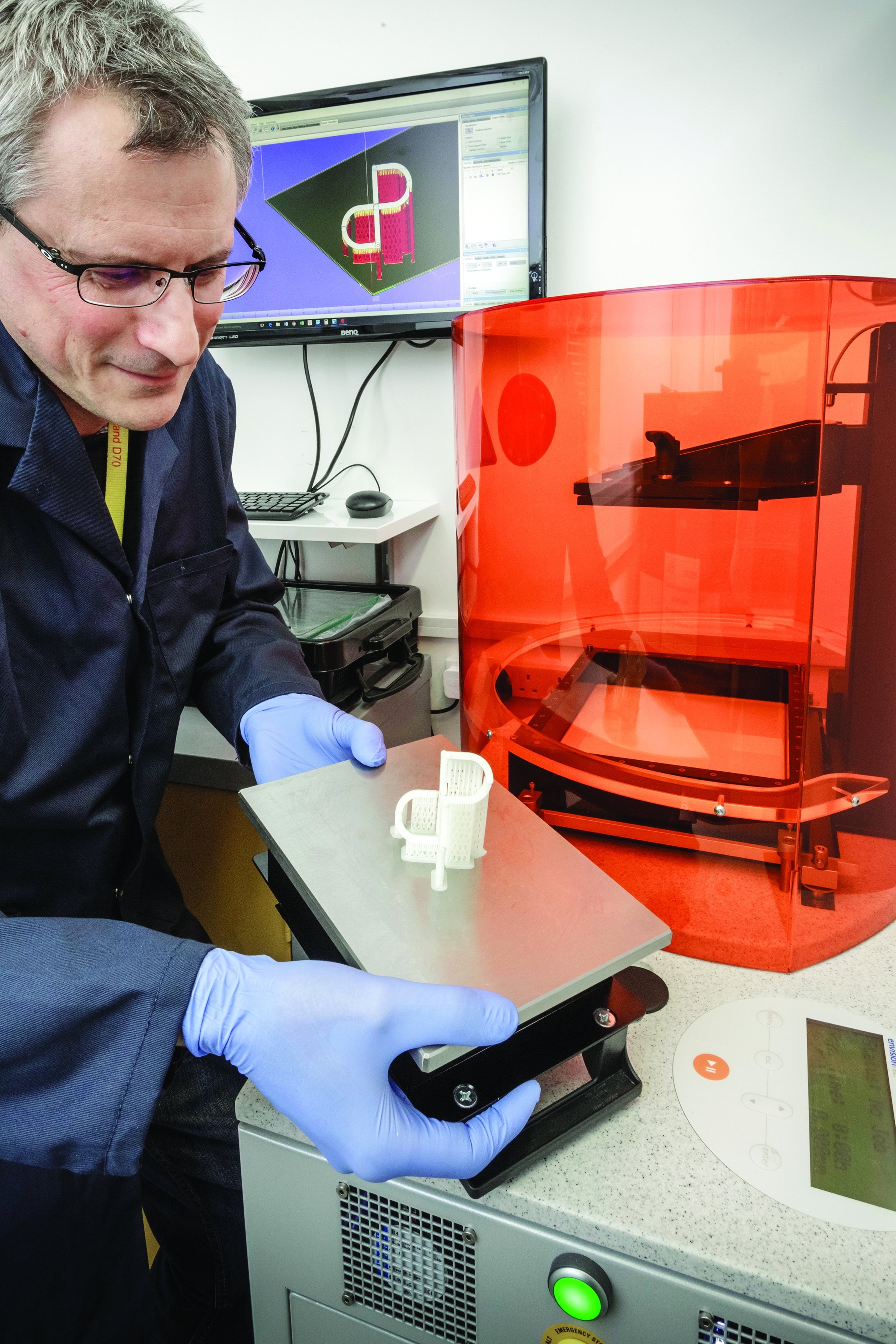 "You don't always want to dial in settings and tolerances to the nth degree for a quick test," said Cocking. "So the up-and-coming players in the market are allowing us to develop things a little bit faster and more cheaply."
The speed of many 3D-printing technologies has improved in recent years, enabling prototypes to be built more quickly, according to Karl Hewson, design engineer at the Cambridge Design Partnership.
Previously, parts could have taken three to five days to be produced, whereas they can now be in a developer's hands overnight, or even the same day, said Hewson.
Among the various 3D-printing technologies used by Cambridge Design Partnership, the company has recently been working with a digital light processing (DLP) printer, produced by EnvisionTEC.
The technology projects light onto photopolymer resin to harden it, and is capable of producing very accurate parts, with crisp corners and edges, said Andrew Stockdale, design engineer at Cambridge Design Partnership.
"Effectively, it projects the whole build platform in one go, layer by layer, instantly," he said. "So that allows the 3D print to almost grow out of the vat."
The use of 3D-printing technologies for rapid prototyping has increased considerably in recent years, and this looks set to continue as more developers enter the market, reducing the cost of devices and materials and making them accessible to a wider range of companies.
And with companies such as McLaren pushing the limits of technology, the range and accuracy of prototype parts built with 3D printing are likely only to improve.