Of all the major engineering projects in the UK, HS2, the proposed high-speed rail line whose fi rst phase will run between London and Birmingham, probably attracts the most opprobrium. It's been branded a white elephant with no business case or environmental case; a money sink; or only of benefit to developers.
Yet the project's technical director, Andrew McNaughton, doesn't have the air of an embattled man. One of the country's leading railway engineers with track records in both academia and on the ground, McNaughton believes that HS2 is a vital part of the UK's future infrastructure. Moreover, he believes that the project has been consistently misrepresented.
For a start, he explained, it isn't a line, and it isn't a link between London and Birmingham. 'HS2 is a network in the making,' he said. 'It's a Y-shaped network made in two stages, and it's as much about connectivity in the north as it is about capacity in the south.'
Much of the negative portrayal of HS2 has seen it depicted as an expensive way of taking relatively few people fast between London and Birmingham. But McNaughton insists that this isn't the case at all. Instead, he says, it should be seen as a network with Birmingham at the hub, linking to cities in the north and the south, and enabling the upgrading of services on existing lines. 'I was recently giving evidence to a House of Lords committee alongside representatives from Birmingham, Manchester, Sheffield, Leeds and Nottingham,' he said, 'and while they'd all picked up on the improved connectivity HS2 would give them with London, Heathrow and Paris via HS1, they'd also picked up on Birmingham to Manchester in 40 minutes. That journey takes hours at the moment. Nottingham to Leeds takes two hours at the moment; HS2 would do it in 20 minutes. It changes the relationship between those cities; it could unlock growth for the Midlands and the north.'
HS2 is as much about connectivity in the north as it is about capacity in the south
Currently, the parliamentary bill for the construction of the first phase of HS2 is making progress and is expected to receive royal assent by 2015. There will then be around two years of procurement, planning approvals and contracts, with construction starting in 2017.
'The critical part of the construction is at the south end, with the complete rebuilding and expansion of Euston station and the long tunnels through London; that's a seven- to eight-year job,' McNaughton said. 'Out in the greenfield away from London, most of the route can be built in two years, so we've told the local communities that the construction period will be between 2017 and 2026, but we don't know yet which two years during that period it will be.'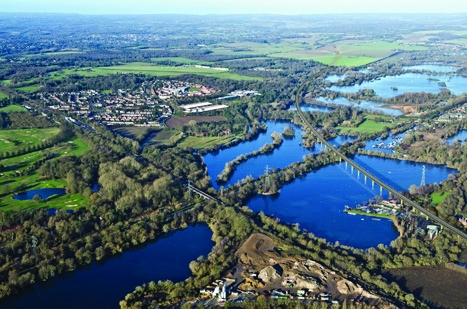 Phase 1 also includes four stations: two city-centre terminals in London and Birmingham, and two city-outskirts stops, one at Old Oak Common, near Hammersmith, and one near Solihull. In London, Euston will be transformed completely; and Birmingham will see a city-centre development with the HS2 trains coming into a new Curzon Street station, sharing a concourse with the existing Moor Street station that handles commuter lines.
The other two stations are important in different ways. Old Oak Common is key to how the difficult southern section of the line will be built. 'It's very much like Stratford on the HS1 line,' McNaughton explained. 'We'll build a big box and use it to launch the tunnelling works, driving to Euston and "around the corner" to link up with the HS1 line, then we'll fit the box out as a station.'
The Solihull station, meanwhile, will act as the link between HS2 and the rest of the country. 'The station is positioned to be close to the NEC, the airport, and the M6 and M42 box,' McNaughton said. 'Then we're building a delta junction. If you're going to Birmingham, you'll go on the spur into the city centre. But then we reconnect, via the delta junction, with the West Coast Mainline at Lichfield. And that's really important; it means that we can run trains to Liverpool and Manchester, using Eurostar 2 stock, which is compatible with the new line and the existing line, and not stop in Birmingham at all. You get the time saving to Birmingham, which has been well publicised, but you also get that time saving going on to Manchester and beyond to Glasgow, and that's before the second phase is built.'
The second phase, the two branches of the Y from the West Midlands to Manchester and to Leeds via the East Midlands, are scheduled to be built up to 2032. This will allow high-speed trains, travelling up to 250mph, to run between all four cities on the network, but will also connect with the existing West Coast and East Coast mainlines. 'The existing network was never conceived as looking both north and south; that's why it's relatively easy to travel from London to most places and vice-versa, but hard to travel between many of the cities,' McNaughton said. 'But because we're developing the potential for a network, we can have that line that faces north and south and allows that interconnection.'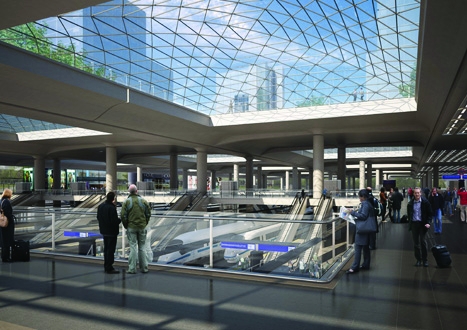 The large number of destinations means an equally large number of trains; up to 18 per hour. 'We're designing this to be the most heavily used line in the world,' McNaughton said. 'That's important for the engineering. We have to take the business requirements - journey times, capacities and so on - and work out an operational concept: how the service is going to run; how you're going to get people on and off the trains; and how trains are going to come into stations. Only then can you start designing lines and stations and bridges and things. But what the railway will look like to a user is something that has to be built in from the start.'
We have to think about how to get 1,100 people onto a train 400m long and how to handle 18,000 people per hour
Ergonomics is important to McNaughton and he's starting from the assumption that the trains are going to be full. The design's starting point was that there would be no premium on the fares to use the service, he said. 'That would have been counterproductive, and make it a very expensive way to move fresh air around,' he commented. 'So we have to think about how to get 1,100 people onto a train 400m long, and at peak time, how to handle 18,000 people per hour. You have to treat them as individuals - some will be familiar with high-speed rail, some won't; some will be tourists, some will be travellers; they're different ages, different sizes, moving at different speeds. At Euston, for example, we'll have escalators from the concourse to the platform every 100m or so, and a couple of hundred people using each one like an airline gate; we should be able to board the whole train, which is bigger than a Eurostar and has more passengers, in two minutes. It takes 15 to load a Eurostar.'
McNaughton is convinced that HS2 is the best way to solve Britain's rail problems. 'These cities are growing; the population is growing. Demand for rail will increase,' he said. 'The West Coast Mainline will be at capacity by 2025. HS2 provides not only double the capacity for inter-city travel, it frees up the existing lines for commuter growth into the big cities, so we can provide fast trains to all these intermediate places that at the moment have a poor stopping service.'
McNaughton added: 'If you stand on Milton Keynes platform during morning peak, you'll see lots of Pendolino trains but they don't stop; they're all full of people going to Manchester. In 2025, when HS2 opens, they're gone. Trains will stop at Milton Keynes every 10 minutes.'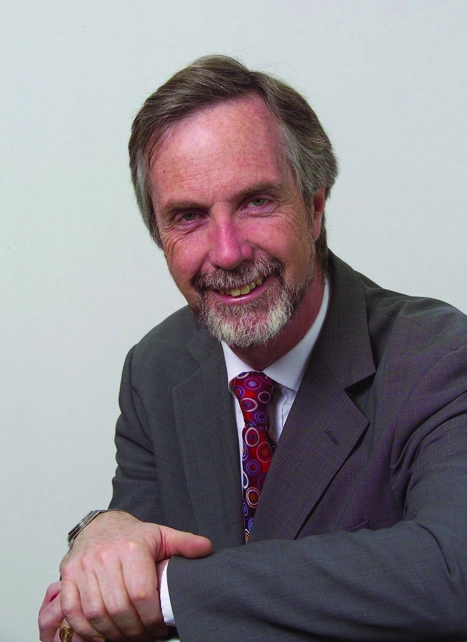 andrew mcnaughton
Technical director, HS2
Career
1973 Joins British Rail. For his first 20 years with the organisation was involved in maintenance, renewal and upgrade work, including the rebuilding of railways through Kent for the first decade of Channel Tunnel operation.
1993 Joins Railtrack. Has served as head of production and director of Great Western
2001 Appointed chief engineer at Railtrack
2009 Appointed chief engineer of High Speed 2 (HS2).
Holds professorships in engineering at Imperial College London; in rail engineering at Nottingham University; and in civil engineering at Southampton University. Also vice-chairman of the EU Transport Advisory Group, chairman of the European Rail Research Advisory Council, and past chairman of the UIC Infrastructure Forum.
Q&A
What sort of trains will run on HS2?
Trains are rolling off the production line now that will do 225mph, so we're designing for those, but the track will be able to take trains up to 250mph.
But won't trains be faster than that by 2026?
Possibly, but there are two factors there. The first is that with the distances we're talking about, going faster doesn't do much to journey times, but it pushes up the energy you use; energy increases with the square of the speed. We optimised between speed, energy use and impact - the faster you go, the straighter the track has to be - and we settled on 225mph for our business case, but it's possible to engineer the line with very little extra impact for 250mph. The other factor is that we decided to build on the most advanced technology that we could stand behind and know it could work. We've been criticised by some for being underambitious inusing 2010 technology for a 2025 project; to which I say: 'yes - but I know it'll work, out of the box.'
What are the engineering implications of that speed?
One of the biggest is to do with getting the number of trains we need onto the track with safe distances between them. That's partly to do with the control system and the brakes, but also with the track layout. For intermediate stations, we have a layout something like a motorway junction. A train coming in goes onto a high-speed turn-off that it enters at about 160mph, then it slows down and stops at the platform. Another train can come through the main line at top speed; the stopped train will start accelerating onto the exit turn-off about 15 seconds before the second train comes through, and when it rejoins the main track, it tucks in behind the non-stopping train at a safe distance. The timings are down to seconds.
Is that a challenge for the driver?
We expect, while there will be a driver in the cab, the trains will be automatic, because that's more responsive. The driver will be there for degraded running in emergencies and for passenger safety - they're still highly trained operators. With this frequency of trains, it's more like running a high-speed metro, with signalling problems equivalent to Thameslink or Crossrail.
What's the most complicated engineering problem?
It's probably about the track bed. Do we go with a traditional ballasted track, which is very good at dissipating energy and is probably quieter; or do we go with a German-style slab track with concrete bedding the rails, which is better at controlling vibration? We'll have to use slab in the tunnels, but the interface between the two is difficult; you go from a flexible, plastic-elastic medium to something quite tight.