There's probably never been a more important time for engineers to be good at business. With the government desperate for a manufacturing revival to boost economic growth, the pressure is on for UK engineering firms to turn good ideas into moneymaking ventures.
It's a shame, then, that one of Britain's most prominent entrepreneurs, Lord Alan Sugar, doesn't think engineers make good business people he drew vigorous criticism for stating so on his popular TV show, 'The Apprentice'.
Surprisingly, it's a view that Andrew Bowyer, an engineer by training and commercial director of one of the UK's most exciting young research firms, Magna Parva, seems to have some sympathy with. 'I certainly don't think business people make good engineers,' he says, 'and so I didn't try.'
Having left school at 16 for an apprenticeship and then an engineering degree, Bowyer now calls himself a salesman and, when he founded Magna Parva in 2005 with partner Miles Ashcroft, he was clear that he wanted to stay focused on bringing in the money. 'I love being immersed in engineering but I took the decision that I would step away from doing actual engineering work.'
It's an approach he thinks more firms in the industry could benefit from. 'Most small engineering companies are started by engineers who do the work and run the business. When Miles and I started, he did the [engineering] work and I was 100 per cent on overheads and developing the business. And I think that's probably paid off.'
"I certainly don't think that business people make good engineers – and so I didn't try"
In six years, the Leicester-based company has established itself a reputation for taking on ambitious space projects far from the more usual fare of Britain's satellite-focused industry. Working with major players such as ESA and Astrium, the firm is helping to create novel European capabilities such as the ExoMars rover and windows for manned space flight. Its latest idea is to develop off-planet factories to cut the material cost and complexity of equipment by building it in space.
It was the possibilities of the sector that attracted Bowyer to it, despite his lack of direct experience working for space companies. 'From a commercial perspective, space engineering is 90 per cent R&D,' he says. 'You fly your prototype. You don't ever make 100 or 1,000 of something. So, as an R&D company, it is a very natural place to live.'
This focus on pure research and development is also behind his insistence that Magna Parva is not a space company. Although around 80 per cent of its current business comes from that sector, the firm has also worked in aerospace, defence, automotive and manufacturing. The link is what Bowyer calls 'engineering for hostile environments', designing robust equipment that can survive anything, from heat, pressure and dust to radiation or simply high speeds.
Crossing into other sectors has opened some exciting doors. There's some 'pretty cool stuff in defence to do with UAVs' that Bowyer can't talk about. 'There's also some work we're doing on countering IEDs [improvised explosive devices, commonly used against troops in Afghanistan] and that's really, really important as well as being fun,' he says.
Being able to work across industries also helps the company to find novel solutions to problems and to transfer ideas. But part of Bowyer's original reason for going into R&D was personal, as it enabled him to work with lots of different companies, technologies and people. It sounds like he gets bored easily.
'I've got an exceptionally short attention span,' he agrees. 'But I genuinely look for stuff that is fun to do and there's a good reason for that. We tend to employ younger members of staff, either fresh graduates or those with one or two years' experience. Those guys need pushing, hard, and so it's up to me to provide our very talented guys and girls with the challenges they need to thrive.'
The company has taken on an increasing amount of space work in the last year, but Bowyer is determined to grow other parts of the business so that space is no more than 50 per cent of what they do. And there's an important business reason for that too.
"At the moment space is fashionable but next year the country might be in a worse state so we've got to balance it out with normal industrial work"
'Space is very subjected to government cuts,' he said. 'At the moment, space is quite fashionable but next year the country might be in worse state so we've got to be able to balance it out with normal industrial work.'
However he also agrees that, by devoting a large proportion of time to cutting-edge space research such as off-planet factories, Magna Parva is helping to forge a new direction for the industry. 'We have a vested interest in it but we think space-based manufacturing is a clear route forward for the UK,' says Bowyer. '[Aside from communications satellites,] the UK has lots and lots of little specialisms and that's been a bit of a hindrance to UK growth because we specialise in so many things.'
But how does encouraging industry to focus on a single niche fit with Magna Parva's aim to work in many different areas? 'I think that a well-defined technology strategy for the UK would help the SMEs to define their own strategies,' he responds. 'That's different from saying we need a single niche; it's saying we need a single plan which the UK Space Agency is starting to do some good work on.
'Moving technologies through the development "valley of death" is our niche or specialism and is industry-agnostic. In fact, being able to pull ideas from different markets is actually the enabling factor that makes us good at our job.'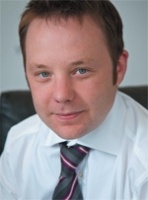 Andrew Bowyer - Biography
Commercial director and co-founder at Magna Parva
Education
1993 Engineering apprenticeship with Cheshire County Council Design
1998 BSc Hons Engineering from Leeds University
Education
1998 Joined Hoerbiger as a sales engineer
2001 Moved to More Control as project sales engineer
2003 Became controls manager for Zeroshift and shortly after moved into a commercial role
2005 Co-founded Magna Parva, becoming commercial director
Q&A - Galaxy quest
What do you think is the most exciting aspect ofspace research going on at the moment?
Some of the stuff on space-based manufacturing really is a game changer. It's a big technology that can enable lots of big things to happen that are currently just in people's imagination. But I'm also excited about a lot of things on the rover side that Astrium is doing with going to Mars. It tends to be the more mechanical aspects that interest me the toys; the things that go out and do stuff.
How do you choose the projects you want to work on?
The benefit of doing project-based work is that it sparks ideas and creates an environment for secondary IP, which is when we're developing technology for someone else but it creates a thought process or the ability to deliver something and we can use that to win another project. Brainstorming doesn't particularly work. You can't just put people in a room and say 'invent'.
What would be your dream project to work on?
I'd avoid answering that and there's a good reason why. I think the space industry can easily get mixed up with the Trekkies [science fiction fans]. We've always fought very hard to be a professional engineering firm we deliver real solutions; real things that are happening all the time. I tend to make us a little bit more serious because I think we've got to overcompensate sometimes for the fact that people will put us into a niche, slightly quirky box.
What more can the UK space industry do promote itself?
I think it's getting better. The thing you've got to bear in mind is the context of the size of the industry the space industry is minuscule. Government-quoted figures for the industry include telecoms, broadband satellites and Sky TV. That's not the space industry. The real space industry has maybe 4,000 people working in it and so our approach to it is that space needs to be a motivator to get people into STEM subjects, and we do a lot of that. We regularly host visits and do career days, and that's very important. I think that helps to get it on people's agenda.
Does working in the space sector make it easy to attract talented people?
We took the decision to look for a spark in people something we can work with, and we train them. But it's a double-edged sword because we have to make it very clear that if they just want to work in the space industry then they shouldn't work for us. One week they might be working on space, the next they might be working on footwear or something in the defence industry. What I need is somebody who can take the skills that they've learnt in space and carry them through to those other industries, pulling backwards and forwards what they're learning all the time. That sort of person is a bit rarer.