Through the EPSRC Centre for Innovative Manufacturing in Medical Devices, academia and industry are driving the UK's  medical devices sector forward. 
Collaborate To Innovate 2017
Category: Academic innovator
Winner: EPSRC Centre for Innovative Manufacturing in Medical Devices
Partners: Universities of Leeds, Bradford, Newcastle, Nottingham & Sheffield; Ceramisys; Corinthian Surgical; DePuy Synthes; Eminate; Fripp Design; Glass Technology Services; JRI Orthopaedics; Materialise NV; NetComposites; NIHR LMBRV; Promethean Particles; Simpleware; Simulation Solutions; Surgical Innovations
Category Sponsor: BAE Systems

Perhaps it's because so many of its products are implanted out of sight in the body, but the UK medical devices sector rarely gets the credit as one of the most innovative and fastest growing areas of the UK engineering economy. 
One initiative that's played a major role in helping to drive this sharp upward trajectory is the EPSRC Centre for Innovative Manufacturing in Medical Devices (MeDe Innovation), which has brought together some of the UK's top research groups and leading firms in an effort to advance expertise in orthopaedic medical device manufacture.
In a sure sign of the sector's vibrancy, the centre – which is headquartered at the University of Leeds – has scaled up rapidly since its launch in 2013. Its initial core of five universities (Leeds, Bradford, Newcastle, Nottingham and Sheffield) has grown to 42, and it now has 39 industrial partners with whom it's involved in literally hundreds of collaborative projects.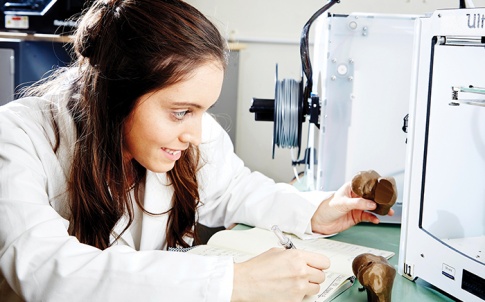 Many advances made at the centre have already led to improved treatments, while other emerging technologies are under development that could help the UK grab a sizeable share of a global market expected to grow to $75bn by the end of the decade. 
"We believe that we've uniquely defined a manufacturing chain that goes from product concept to patient delivery," explained the centre's director, biomedical engineer Prof John Fisher. "We try to undertake research in all aspects of that: on design, manufacturing, pre-clinical evaluation and clinical evaluation. There are technology and research challenges all along that pipeline and you have to address them all if you're going to have successful products on the market."
One of the key challenges, said Fisher, is that the nature of the sector is changing so rapidly. Factors such as a growing pressure for targeted treatments, a demographic shift towards a larger ageing population, and the convergence of once distinct areas of technology have all conspired to demand a nimble and open-minded approach to innovation. "The sector is going through a transformation," he said. "It's not just about growth through conventional medical devices anymore. And that's where the research investment is so essential because we're looking at things such as the convergence of technologies (combination devices that might involve physical devices with some biological function); at the digital enablement of devices; and at how you target interventions much more precisely to patient needs."
An example of this convergence in action is the centre's work on biological scaffolds – devices that are used to promote the regeneration of damaged tissues by providing a template for cells to grip to. Historically, scaffolds have been made from synthetic material, but Fisher's group has been at the forefront of efforts to bring engineering and biological science together to develop scaffolds derived from human or animal tissues. These devices, which are more closely matched to the natural regrowth and repair process offer big advantages over traditional techniques, said Fisher.
While the group's primary focus is on musculoskeletal medical devices, technology convergence means that it's also beginning to move into other areas such as diagnostics. One particular area identified by Fisher is the use of wearable technology that can be used to enhance traditional treatments by monitoring rehabilitation.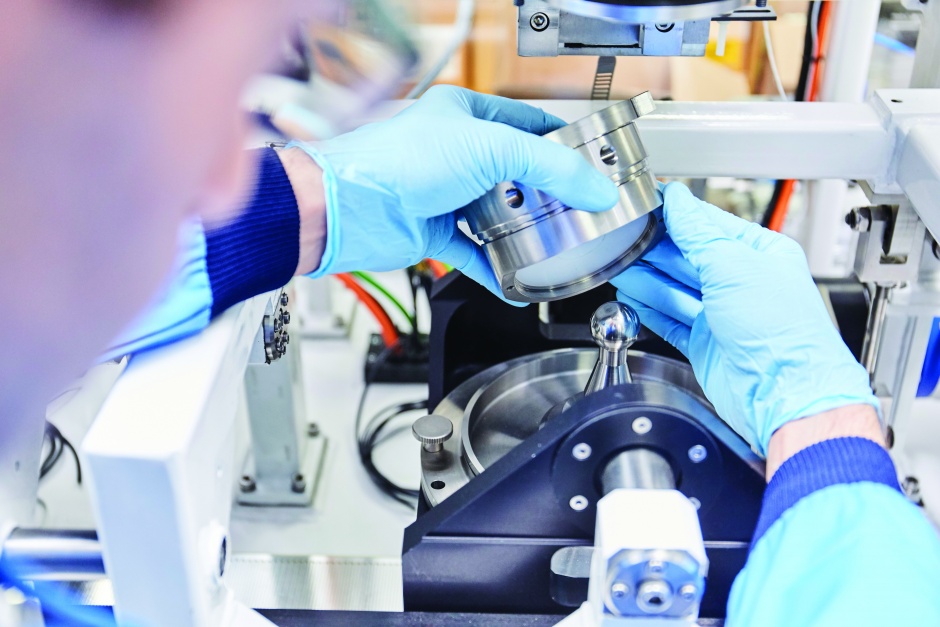 Alongside these emerging areas of treatment, the centre is also looking at ways of improving more traditional devices such as replacement knee or hip joints. In one project, the group worked with Simulation Solutions and a major medical device manufacturer on the development of a pre-clinical hip joint simulator that can predict the function of a hip joint and used to both improve the final product and enhance the precision of the surgery. 
Another development, also involving Simulation Solutions, led to the first-ever six-axis natural knee simulator for pre-clinical evaluation of scaffolds. This system has already been used in collaboration with NHS Blood and Transport and industry partners to develop and evaluate biological and synthetic scaffolds for tissue repair in the knee. Some of these have now progressed to manufacture and clinical studies.
As well as its impact on technology development, the group has also made an important contribution to the sector's skills base. Fisher estimates that over its lifetime around half of the centre's PhDs and postdocs have been turned over to industry. "One of the biggest impacts we can demonstrate is that half of the highest-level technical staff at [one key industrial partner] have come through our system – that's a real matching of supply of specialised skills into a local specialised industry."
Unsurprisingly, managing such a large group is about creating the right environment for innovation. "My job is about strategic leadership: making the choices of where we're going and whom we partner with," said Fisher. "It's been organic growth but I'd like to think it's been strategic organic growth."
One of the keys to this culture is what Fisher terms a challenge-led approach. "I look to the marketplace for their challenges and try to identify key strategic research questions that underpin those areas," he explained.  The other critical factor, he said, is the importance of embracing cross-disciplinary collaboration. "We're bringing together conventional engineering with biological science, clinicians and the digital technology community."
Perhaps the ultimate measure of success is the number of lives that have been improved. But Fisher said the NHS could do more to help drive the sector forward. He thinks the establishment of specialist regional innovation and evaluation centres concentrating on certain types of technologies and diseases could help overcome some of the current barriers. "It's a complex problem that not many countries in the world have solved, but it's a great opportunity for the UK because we have the NHS there. However, it's an asset that's not yet being used in a way that supports UK industry."
READ ABOUT ALL OF THE C2I 2017 WINNERS HERE
Shortlisted – Young innovator engagement
Project name: 
Centre for Innovative and Collaborative Construction Engineering (CICE)
Partners: 
Loughborough University, over 100 industrial partners
The Centre for Innovative and Collaborative Construction Engineering is one of the UK's longest-running Industrial Doctoral Centres sponsored by EPSRC, having been operational since 1999. It has facilitated 151 projects involving 101 companies, including Arup, AECOM, Balfour Beatty and Eon. As well as attracting more than £12m grants, £3.5m cash investment, and £7m in-kind contribution, it has developed 37 redesigned processes, 21 new systems, 10 prototypes, 11 frameworks, 10 toolkits and three patents.
Project name: 
The Centre for Additive Manufacturing, University of Nottingham
Partners: 
Oce Canon Europe; GSK; Added Scientific; Renishaw; Pfizer and others
For more than 20 years The University of Nottingham's Centre for Additive Manufacturing has worked with a host of industrial partners including Oce Canon Europe, GSK, Added Scientific, HiEta, Renishaw, Pfizer, AZ, Moog, Alcon Components, AWE, Bentley Motors, and BMW. Key projects include the development of additive techniques for producing personalised pharmaceutical tablets, advances in the optimisation of lattice structures, and world-leading work in the field of 3D jetting of metallic materials.
Project name: 
Innovative mixed reality solutions for defence, aerospace and healthcare
Partners: 
University of Birmingham; BAE Systems Royal Centre for Defence Medicine and others
The University of Birmingham's Human Interface Technologies Team, led by Prof
Bob Stone, has been pioneering the evaluation and application of VR and AR technologies since 2003. For its C2I entry, the group flagged up projects that arose as a result of an MoD-funded programme focusing on the use of VR for training
and real-time simulation. The team collaborated with BAE Systems and developed a series of concept demonstrator projects including 'mixed-reality' experimental test beds, where physical objects and real-world settings are blended to enhance the believability of VR and AR scenarios.
Project name: 
Developing a UK Quantum Sensor Technology Eco System
Partners: UK National Quantum Technology Hub in Sensors & Metrology; RSK; Teledyne-e2v
Led by Prof Kai Bongs at the University of Birmingham, The Quantum Technology Hub in Sensors and Metrology was established in 2014 as part of an effort to put the UK on the world stage in terms of quantum technologies. The hub brings together expertise from the universities of Birmingham, Glasgow, Nottingham, Southampton, Strathclyde and Sussex with more than 70 industry partners. The teams are working to transform laboratory-based research and to develop smaller, cheaper, more accurate and energy-efficient components and systems to build a supply chain for business and society as a whole.
Project name: 
James Watt Nanofabrication Centre, School of Engineering, University of Glasgow
Partners: 
University of Glasgow; Kelvin Nanotechnology; Gas Sensing Solutions; Compound Semiconductor Technologies
Glasgow's James Watt Nanofabrication Centre houses more than £32m of nanofabrication tools in a 1,350m2 clean room run as a pseudo-industrial operation. Glasgow has 35 years' experience delivering micro and nanofabrication to develop solutions in processing, nanotechnology, nanoelectronics, optoelectronics, mm-wave and terahertz, bioengineering, biotechnology, lab-on-a-chip, cleantech and energy, photovoltaics, security and defence and a host of other applications. It collaborates with more than 90 international universities and more than 288 companies from 28 countries.
The headline sponsors for C2I 2017 were Frazer-Nash Consultancy and Yamazaki Mazak
For information on sponsoring or supporting C2I2018 contact The Engineer's commercial director Sonal Dalgliesh  sonal.dalgliesh@centaurmedia.com