From its crowded GP surgeries to its cash-strapped hospitals, there's little doubt that the UK's National Health Service (NHS) is going through a tough time.
And although the outcome of the forthcoming general election may provide some temporary respite for one of Britain's best-loved institutions, fundamental demographic forces are at play that mean these challenges are only likely to become more acute in the years ahead.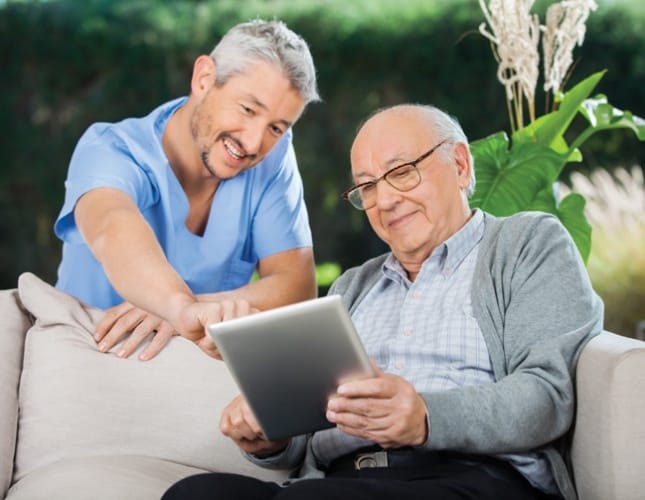 By 2030, there will be 50 per cent more over-65s and more than double the number of over-85s alive in England than in 2010. And this rapid growth of the number of people living into their late eighties, as well as a corresponding decrease in the number of younger people able to look after them, will create unprecedented pressures for the healthcare system in general, and its hospitals in particular.
Against this backdrop, it's difficult to be optimistic about the service's future. But could technology help fundamentally reshape the way we approach healthcare, and in the process get the NHS off the critical list?
A growing number of engineers and clinicians believe that digital healthcare could be the solution: that a host of smart sensing systems able to remotely monitor, diagnose or even treat a range of conditions could reduce the burden on hospitals and clinicians, and empower people to become more involved in their own treatment.
In a recently published report on the topic (Patient of The Future: 2020), Essex-based engineering consultancy Plextec argues that technological advances in the medical sector — largely underpinned by sensing technology — are poised to drive the most fundamental progression the UK health service has ever seen. The report's author, healthcare technology expert Collette Johnson, has a keen sense of both where these pressures lie and how industry can help.
In her previous role within the NHS, Johnson helped to run Innovate UK's Small Business Research Initiative — a programme aimed at connecting public sector challenges with innovative ideas from industry — and worked closely with both technology developers and frontline clinicians.
"Getting people out of hospitals and into homes is one of the key things we need to do to help the NHS, and technology provides a remote way of dealing with patients," she told The Engineer. "That's the key thing and that's what clinicians want."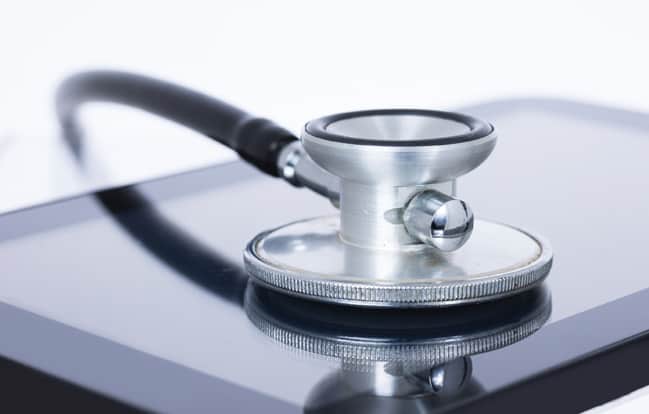 One of the most important functions technology can perform is helping to spot complications earlier, thereby preventing the need for a hospital visit. "Where someone has an illness, you can use sensors as an early-warning diagnostic tool to make sure they don't get secondary complications," said Johnson.
"Getting people out of hospitals and into homes is one of the key things we need to do to help the NHS, and technology provides a remote way of dealing with patients

Collette Johnson, Plextec
Cambridgeshire company Aseptika, which has developed a range of monitoring devices aimed at helping patients to manage long-term health conditions, is already having an impact in this field.
The company has developed a sensor-based home sputum test for cystic fibrosis patients, which, according to Johnson, is able to spot the early signs of a lung infection up to 15 days before clinical symptoms become apparent. This enables GPs to prescribe antibiotics early, potentially averting the need for a lengthy hospital stay.
Another reason that many people with long-term health conditions end up in hospital is that, as a result of either forgetfulness or symptoms of depression, they stop taking their medication. And again, technology can play a role.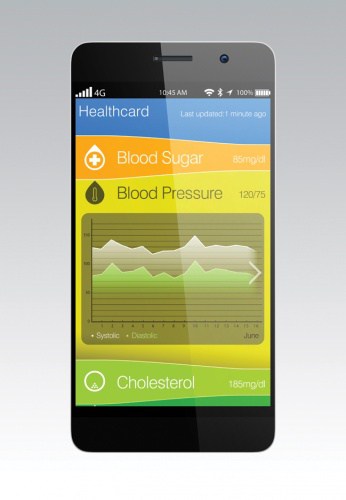 A good example of this is London software company uMotif, which has developed a smartphone app specifically aimed at people with Parkinson's disease, where even a couple of missed doses can lead to a profound decline in health.
The app, the first of its kind to be available on prescription from the NHS, has been designed to be used collaboratively by patients and clinicians, and works by recording data on things such as blood pressure and glucose levels, which it then uses to issue patients with reminders and help doctors to assess how well they are doing.
"It's all about getting the sensor at the frontline of the patient and catching those patients as early as possible to stop them needing that secondary care," said Johnson.
Sensing technology can also play a useful role within hospitals, where it can help to reduce some of the risks associated with a hospital stay. In one recent trial, Wigan Infirmary claims to have saved £50,000 per month through the introduction of technology that detects the early signs of bedsores and enables clinicians to start treatment before the problem worsens.
It's early days, and these are all relatively small-scale trials, but there's a growing feeling that such technologies, if rolled out on a wide scale, could have a major impact. And that's where the real challenge lies.

Beverley Bryant, director of systems & technology, NHS England
"A lot of hospitals are still on paper and hold everything about you in filing cabinets, so there's no point putting wearables and digital devices in the hands of patients if when you press a button the data goes into a black hole.
Beverley Bryant is director of strategic systems and technology for NHS England and agrees that sensing technologies have huge potential, but she says that a lot of work needs to be done on the service's underlying IT infrastructure if the technologies are to really have an impact.
"There's no point really pushing this stuff if none of it joins up with the NHS," she said. "Currently, despite 100 per cent digitisation within primary care, secondary care is yet to really enter the digital world. A lot of hospitals are still on paper and hold everything about you in filing cabinets, so there's no point putting wearables and digital devices in the hands of patients if when you press a button it goes into a black hole."
It's fair to say that the NHS doesn't have a great track record when it comes to addressing this particular problem: the abortive National Programme for IT, which cost the taxpayer £10bn, has been described as one of the biggest IT failures ever seen. So how can the organisation get it right this time round?
Bryant believes that where this initiative, and many other efforts to introduce technology, have fallen down is in their failure to properly engage clinical staff. "One of the failings [of the National Programme for IT] was that it didn't have clinical ownership," she explained. "We were trying to solve the problems of the system but hadn't really asked how can the technology help the doctor or nurse in their day-to-day job?"
A big part of Bryant's role is ensuring that these mistakes aren't repeated and that the clinical community feels that it has input into technology decisions. Initiatives introduced by Bryant to address this include a chief clinical information officers forum, set up to promote dialogue between the clinical and IT communities, and the recently launched Code for Health initiative, an effort to get clinicians involved in coding, and ultimately developing their own useful software tools that could be used elsewhere in the health service.
Plextec's Johnson agrees that the needs of clinicians have tended to be ignored by technology developers. "We're getting a lot of technology looking for a home, but what they're not doing is going to the clinician and saying what do you need from me?" she said. "Companies need to engage with clinicians and get clinical opinion leaders on board so that they can engage with the technology.  That's what's holding us back."
Johnson added that firms also need to understand the pressures that clinicians are under. One of the big barriers to technology adoption, she said, is regulation — or rather the current lack of it — for the host of technologies currently under development. "If you've got no regulation, the clinicians don't want to take the risk of taking it. No one wants to take the first jump. What if it goes wrong?"
A related issue is the increasingly litigious climate that clinicians have to work in: if a new technology records a huge amount of data on a patient, a clinician may be afraid of using that technology in case they miss something important and end up getting sued.
Johnson said that although there are now cases of companies that have worked closely with the clinical community to develop their products (uMotif and Aseptika are two good examples), companies tend to be more inclined to go down the consumer product route to market where there are quicker returns on investment.
"They see doing clinical trials as a really big expense, and it is," she said. "You have to pay NHS trusts to do a clinical trial, and you have to get lots of clinical data. It costs around £1m to get the data you need to go to market."
And despite the need for greater clinical involvement, she believes that — somewhat paradoxically — the irresistible market forces of the consumer market could be the most influential factor in terms of getting clinicians on board with new technology. "There could come a point where the clinical community turn around and say,'oh my god, everyone's got one now'. The patients are going to push on the consultants, and are going to end up educating the medical people about how to take this forward."
Ultimately, the most successful products are likely to be those that have pursued both strategies: that have clinical buy-in but are also mindful of what's going to work best for users. "A lot of companies are doing this," said Johnson. "This is how they'll go forward because they'll get a lot of data from the consumer side that will build their profile on the medical side.
One extremely successful example of this approach is the AliveCor heart monitor, a mobile ECG device that hooks up to a smartphone app and will instantly tell the user whether their heart rhythm is normal or not. The device has been through extensive clinical trials and is available through the health service, but you can also buy it on the internet. And for an additional fee, you can even pay to have your heart data clinically assessed.
Having products available both commercially and clinically could also help relieve some of the strain on the health service, believes Johnson. "People that can afford to buy it, and they will buy it. But that will release some strain from the NHS and ease the burden for people who can't afford it to have it."
There are also some big lessons to be learned from the commercial world at a more strategic level
One of the priority areas for Bryant's team is ensuring that patients enjoy the kind of multi-channel engagement with the NHS that they're used to in the wider world: whether shopping or communicating with friends and family. And a great deal of her team's ongoing work on the NHS Choices website, and the way that patients will soon be able to use it to access detailed medical records and communicate with their GPs, has been influenced by the way we use other types of service. "It's about creating utility for citizens in a way that they're used to and building on modern transactional data processing," she said.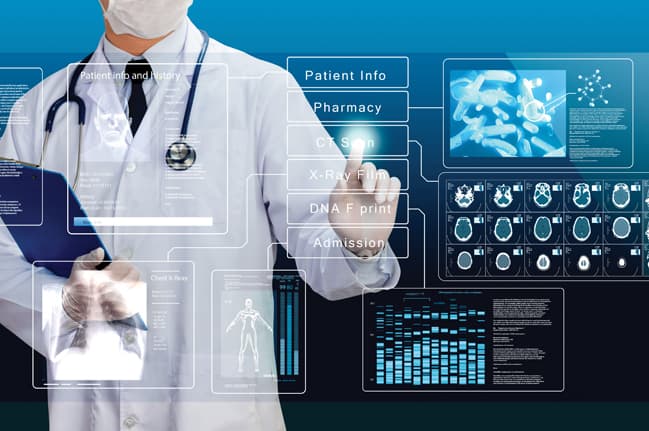 But while giving patients the technology to stay in control of their own healthcare has many obvious benefits, there is, according to Johnson, a slight concern that if the technology companies do not educate their users it could be counter-productive. Unfettered access to too much data that we don't really understand could turn us all into hypochondriacs.
"The companies that will win are the ones that will educate people about the technology and help them understand what the results are," said Johnson. "If people don't understand that, they'll be knocking at the doctor's door every five minutes and that's where we have to get the balance and where clinicians will really help the market."
Ultimately, said Bryant, it is an inevitable trend. "In this internet age, people are already doing it anyway and there's no point fighting against a trend. We need to create NHS-accredited systems that have our lozenge on and that are underpinned by evidence."
Johnson believes that all of these various drivers are creating a situation where the technology is closer to having a mainstream health impact than many think.
"We've seen fantastic outcomes come out of trials that have already been going on — small local benefits — if they can be pushed out wide scale over the next three years, we'll see some fantastic benefits," she said. "I think in the next three to five years we're going to see something really big happen, because people are taking it on now people know that they need to have it, and we've got forward-leading clinicians."
And despite all of the pressures it faces, Bryant believes that the NHS is uniquely well placed to drive nationwide change. "Because we are a national health service, we've got an opportunity to make this happen on a country-wide basis," she explained. "As long as we make sure that everything we do adds value to patients, there's no reason why we can't achieve our ambition for digital technology use in the NHS."